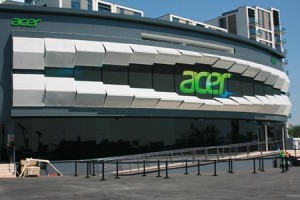 Taiwanese PC maker Acer reported a net loss in last year's fourth quarter, weighed down by a US$120 million write-off related to its Gateway, eMachines and Packard Bell product brands. 
Acer said on Tuesday its fourth quarter loss reached NT$3.37 billion ($116 million), down from a net profit of NT$94 million in the same period a year earlier. Revenue reached NT$101.5 billion, a dip from NT$127.5 billion in the previous year.
In January, Acer announced a write-off from the lost value in its Gateway, eMachines and Packard Bell trademarks, which were acquired by the Taiwanese firm back in 2007 as part of a $710 million deal. Acer has since discontinued the eMachines brand, and plans to refocus its product portfolios under Gateway and Packard Bell.
Excluding the write-off, Acer would have made a net profit of NT$131 million, a year-over-year increase of 39 percent.
The company reported the net loss as PC shipment growth continues to remain sluggish at a time when tablets and smartphones are in demand among consumers. The changing market has been particularly painful for Acer, with the company reporting back-to-back quarterly net losses in 2011.
Over 80 percent of the company's revenue comes from desktops and notebooks. But in the coming year, Acer expects its tablets and convertible PCs will increasingly help drive growth, said company executives in a Tuesday earnings call. Acer CEO J.T. Wang said the supply chain for tablets has become mature. In addition, the company has noticed a "sales momentum" behind touch-based Windows 8 products.
For this year, Acer is projecting it will ship 5 million tablets using the Android and Windows 8 operating systems. But the company hopes to exceed that figure, and reach 10 million units.
"We will have a full line of tablets of Windows 8, and also we will have a full line of Android tablets," Wang said. "By the second half (of this year), we will have a very competitive, full range. So you can expect we will be very aggressive in this category."