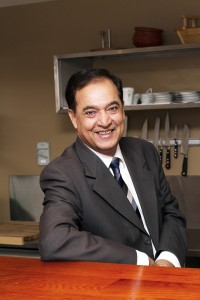 From birth in a remote Indian village and having his lunch box stolen by school bullies to CIO of one of the Middle East's largest conglomerates. Now CIO of Emirates Flight Catering, Arun Tewary explains how he became the man everybody wants to head their ERP project. 
If you work in the IT field in the Middle East, it's likely you've heard of Arun Tewary.
The current CIO of Emirates Flight Catering is one of the most well-known IT leaders in the region, a regular speaking figure at technology events across the Middle East.
He is particularly famed for his ERP implementations, leading large-scale projects in both the UAE and his home nation of India.
It is there where his story began, born in a remote village in Bihar in the eastern part of India.
He didn't stay there long, as his father's insurance job left the family travelling from place to place, but he later returned to his birthplace to complete a mechanical engineering degree.
"I specialised in automobiles because I was very fascinated by that," Tewary says. "But I became very disappointed because once I really examined the inside of a car in our labs, I didn't find it as exciting."
Whilst he may not have been studying a subject he wished to pursue a career in, Tewary found more value in his university experience as a time when his personality evolved.
"During my childhood, I was a very quiet student, to the extent that bullies would snatch my lunch box and I would not even react," Tewary recalls. "But at college, I became a very different type of student.
"That's when I really started to grow as a person. I wouldn't say that I converted into a bully myself, but I became more confident. Each one of us comes with a specific DNA and it's just a matter of time before it starts to show its natural and true colours and you cannot hide that. I think it had a lot to do with my change of environment and moving out from my old house, where I used to stay with my parents and five siblings. Going from that to being alone at university gave me an independence I had never had before."
Tewary left university in 1981, joining the National Thermal Power Corporation (NTPC)'s management scheme, which prepares its trainees to later form the core layer of India's power sector.
Despite the prospect of eventually becoming an advisor to the prime minister, Tewary quit the job after only five days. "It just wasn't for me," he says.
Instead, Tewary took a job as a computer programmer at Tata Steel, which is where he says his career really began.
However, at a time when IT was at a very early stage, Tewary believes he missed an opportunity to be part of something huge.
"I continued with what I was doing with a very narrow focus," he says. "I wasn't looking around as to what was happening elsewhere in the world.
"Others in the industry in my same age group – Bill Gates also become a computer programmer around the same time – were moving in the profession with a different type of focus."
Whilst Bill Gates went on to form the world's largest software company, Tewary didn't do too badly, either.
During 14 years at Tata, he rose from programmer to systems analyst to assistant IT manager and then eventually IT manager of various different divisions within the company.
But despite his success at Tata, Tewary soon realised that he didn't want to be stuck in the same place for the rest of his life.
"Suddenly, one morning, I realised there was nobody left – everybody was in the USA. I was the only patriotic Indian left!"
Tewary remained patriotic and stayed in India, but in 1995, he moved to Mumbai to work for another steel plant, Essar Steel, which recruited him as joint general manager of IT.
"Mumbai was vibrant and quite glamorous, which was a change of scenario for me – I enjoyed it," he says.
Following one year of planning out ERP implementations in Mumbai, Tewary was relocated to Essar's steel plant in Gujarat to complete the first rollout of SAP R/3 in a steel plant in India.
But Tewary did not have time to settle before another big opportunity came knocking, this time overseas.
In 1997, a recruitment company was engaged by Al Futtaim Group, one of the Middle East's largest conglomerates, to find eight project managers from around the globe who could carry out ERP.
After Tewary was selected from India, he left his country for the first time and headed to Dubai to project manage the human resources model of SAP within the Group.
Despite the excitement of moving to a new country, Tewary initially found being away from home difficult.
"Every night or alternate night for my first six to 12 months in Dubai, I thought about going back to India. I was a very homesick type of person and in the initial days of any project, you are not really on the battlefield, where the war has begun. By nature, I'm not the guy who would feel very comfortable not being involved in the war – I have to be in the midst of the action.
"All through my career until then, it was always a lot of action when developing an application or programme. Then suddenly, it was a change of place and culture. Plus I had left India for the first time, so I continued to think for quite some time about going home. It took me a lot of time to really settle in."
However, all thoughts of being homesick soon vanished when, around a year into the SAP implementation, Tewary's boss, the general manager of IT at Al Futtaim, suddenly left the group.
Early the next morning, with immediate effect, Tewary was given the high-profile job.
"For a few minutes, I was just dumbfounded," he recalls. "But I realised it was a big opportunity – the biggest ERP implementation in this part of the world.
"Al Futtaim Group is huge – it was a rollout across 35 companies – and I was heading a team of over 100 people. I had one of the biggest and impressive offices in Al Futtaim and a large team – you would not have found a bigger CIO job in the country then."
Come 2005, after the mammoth ERP rollout was completed across the Group, Tewary found himself re-evaluating his options.
"There was nothing new I could see. I wasn't finding much excitement," he says. "That was at the time the property boom had started in Dubai and Emaar Group was coming up in a big way."
As such, Tewary decided to move to Emaar to work for Sahm Technologies, a fully owned subsidiary which was formed to handle the IT duties of all the properties being rapidly built.
Once again, ERP was on the cards as Tewary joined as manager of IT solutions to lead the rollout of Oracle's eBusiness suite across the group.
In 2007, Sahm got an engagement to do a programme management for the ERP implementation at Emirates Flight Catering.
Like any other programme management, Tewary found himself making presentations to management as to how the organisational structure would be and how easy it would be to implement the ERP.
Only this time, the management team at Emirates Flight Catering were so impressed by Tewary that they wanted him to join them and head up the implementation in-house.
"For me, it was not possible because I was coming from another company," Tewary says. "But the then-CEO at Emirates Flight Catering knew the management at Emaar and convinced them to release me.
"By that time, Sahm Technologies was also closing down, which made the transition a lot easier."
Subsequently, Tewary joined Emirates Flight Catering as CIO and ended up staying beyond the conclusion of the ERP implementation.
"As it is, Emirates is growing so I still have a lot of opportunities here," he says. "Last year, we did a consulting exercise where we identified around 30 opportunities which we need to do, so I have a whole host of opportunities here."
While acknowledging that the nature of leading IT projects means different opportunities often come up as and when particular implementations end, Tewary is adamant that the Middle East will remain a home for him and his family.
"Dubai and the UAE has been a wonderful place," he says. "Many people say that, with my profile now, I should go back to India, but my thought is clear – as long as I'm able to continue, I will not leave this country. I love this place."