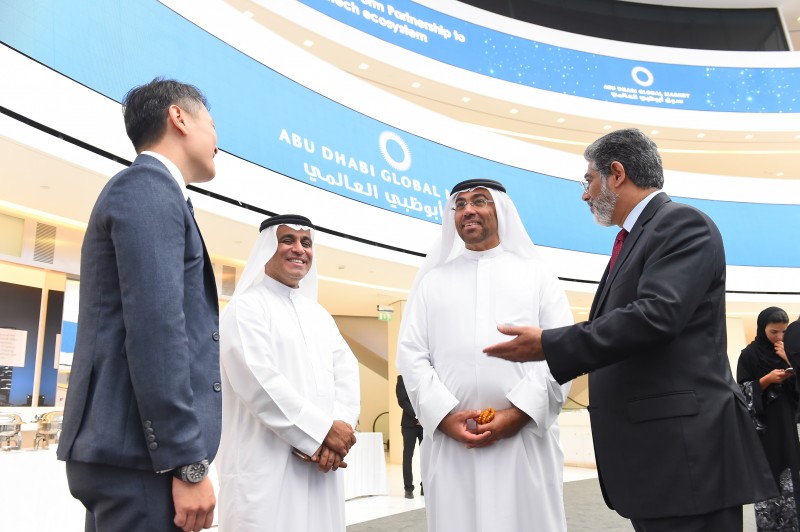 Abu Dhabi Global Market (ADGM), has announced a memorandum of understanding with Abu Dhabi Islamic Bank (ADIB) to collaborate and consult on initiatives to promote the growth and development of the FinTech ecosystem in Abu Dhabi and the UAE.
The MoU was signed by ADIB's chief operating officer Sagheer Mufti and Richard Teng, chief executive of the Financial Services Regulatory Authority (FSRA) of the ADGM, and witnessed by Ahmed Al Sayegh, chairman, ADGM and Khamis Bu Haroon, vice chairman and acting CEO of Abu Dhabi Islamic Bank.
Under the terms of the MoU, ADIB will partner with the FSRA across a range of Sharia-compliant FinTech related initiatives.
Mufti said, "Both ADIB and ADGM have placed considerable focus and investment into supporting FinTech companies which can deliver additional value for our customers. The long-term success of the FinTech ecosystem in the UAE will be achieved through collaboration between established financial institutions and FinTech entrepreneurs, underpinned by a robust and supportive regulatory environment. Formalising our partnership with ADGM puts in place a framework through which ADIB can leverage its own experience in developing innovative technology to support FinTech start-ups."
Teng said, "The collaboration with ADIB represents our efforts working with stakeholders to support innovation in a world-class regulatory environment. ADGM and ADIB share a common objective in advocating best practices, nurturing and fostering innovation and facilitating growth in our FinTech ecosystem. We look forward to working closely with the ADIB team to develop initiatives and programmes that will capture new business opportunities and expand our FinTech reach locally and globally."
ADIB and ADGM will also explore and participate in joint innovation projects on the development and application of technologies such as digital and mobile payments, blockchain and distributed ledgers and artificial intelligence. Both entities will also seek to develop local FinTech entrepreneurship through mentorship and knowledge transfer across incubation, accelerator, academic and internship programmes.
Over 67 percent of transactions were carried out on ADIB's digital platforms in H1 2017.