His Highness Sheikh Mohamed bin Zayed Al Nahyan, Crown Prince of Abu Dhabi and Deputy Supreme Commander of the UAE Armed Forces, has inaugurated the Abu Dhabi National Oil Company's (ADNOC) advanced Panorama Command Centre and Artificial Intelligence (AI) platform.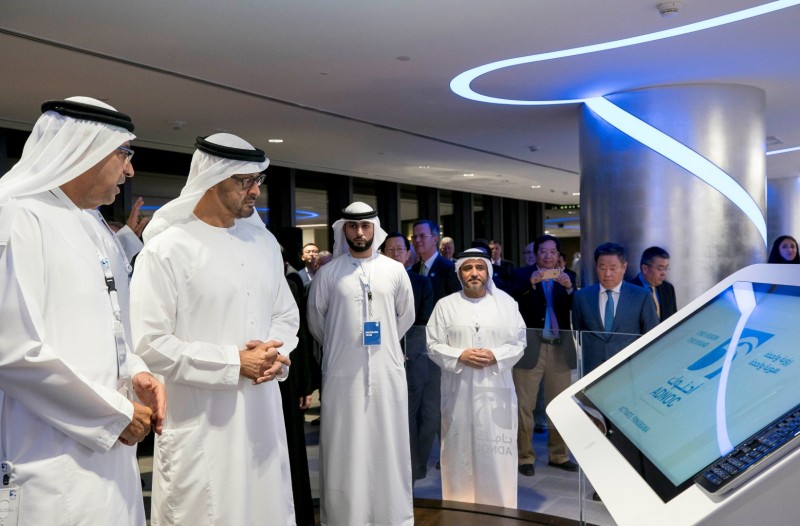 The new digital hub provides access to big data from its operations and performance, putting critical information at the fingertips of ADNOC's sharpest minds to uncover new solutions to optimize our performance.
The official opening of the centre by H.H. Sheikh Mohamed bin Zayed was followed by a demonstration of its scope and capabilities to global industry CEO's who attended the second annual Abu Dhabi CEO Roundtable, at ADNOC's corporate headquarters, earlier in the day. On the sidelines of the inauguration,Abu Dhabi's Crown Prince met with the CEOs attending the roundtable.
H.H. Sheikh Mohamed expressed the UAE leadership's support for ADNOC's transformation into a company that will thrive in the new energy market and underlined the importance of the role of advanced technologies in creating a sustainable and healthy economy in the UAE. He added the Panorama Command Centre is tangible evidence of the adoption of Big Data and AI in the local oil and gas industry and the wider UAE economy.
The Panorama Command Center draws from data points across ADNOC's businesses; from the upstream to the downstream and global distribution network, visualising it on a state of the art 50-meter floor-to-ceiling video wall and providing a single access point to ADNOC's performance. Using smart analytical modelsand by leveraging cutting-edge AI platforms, it uses this big data to generate new operational insights and recommend new pathways to enhance performance and unlock value.
Situated on an entire floor at ADNOC's corporate headquarters, the facility represents a key part of the company's organisation-wide digital transformation. Byharnessing big data and leveraging real time monitoring technology and advanced data analytics, ADNOC is enhancing its operations, driving efficiencies andunlocking value. as it integrates across its full value chain.
The Panorama Command Centre aggregates accurate,real time information from ADNOC's operations and businesses across the full oil and gas value chain, presenting data at a Group-wide level but also giving access to information from individual assets.
The center can be used to benchmark upstream production output against targets, or measure processing and refining performance and stocks, as well as integrate these insights to unlock opportunities and value. The 50-meter screen also displays sales and marketing data on ADNOC's products and tracks the locations of ADNOC's maritime fleet of LNG and bulk carriers as they deliver cargoes to customers around the world. It also provides a centralized crisis management center with access to communications networks and live feed CCTV from across ADNOC's operations.
In addition to operational information, the Panorama Command Centre gives decision makers and executives instant access to Group-wide performance indicators from across ADNOC's companies and tracks it againstagreed production and strategic targets. This includes Group-wide HSE performance, energy and power management, financial and HR information.
The center will enable ADNOC to be more agile, efficient and responsive, as it unlocks production capacity, maximises downstream value and adapts to shifting market dynamics while reliably meeting changing customer needs.
Present were Dr. Sultan bin Ahmad Sultan Al Jaber, Minister of State and CEO of ADNOC Group, Mohammed Mubarak Al Mazrouei, Under-secretary of the Abu Dhabi Crown Prince's Court, senior officials and CEOs.