The UAE Government has launched the UAE Center for Future Readiness to develop programmes and policies that help prepare government agencies for the challenges of the Fourth Industrial Revolution.
The Center was launched during the second Annual Meeting of the Global Future Councils, held under the patronage of His Highness Sheikh Mohammed bin Rashid Al Maktoum, Vice President and Prime Minister of the UAE, Ruler of Dubai.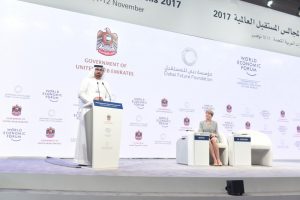 His Excellency Mohammed Abdullah Al Gergawi, Minister of Cabinet Affairs and the Future and Co-Chair of the Global Future Councils, asserted that the UAE Government offers its full support for efforts to develop solutions that prepare the country for the challenges of the future.
"The UAE Center for Future Readiness will play a key role in supporting governments across the region and the world," H.E. explained, "as well as to train and equip future leaders, honing their skills and tailoring them to meet the rapid changes taking place around the world. The Center seeks to embed innovation and scientific research into the very fabric of organisations operating within strategic sectors. Moreover, it reflects the leading role that the UAE Government plays in promoting future-readiness across the world."
With a global network of experts and scientists, the Center seeks to build capacities and evaluate future-readiness with thorough studies and reports that flag future opportunities for growth, identifying knowledge-based strategic tools, and organising interactive workshops that contribute to decision-making.
The Center adopts a four-pronged approach to establishing the future-readiness of governments: Setting basic rules and guidelines, identifying enabling factors, focusing on the future, and establishing governments as a major engine for future transformation.
Each of the four steps includes several measures to be considered while setting the rules and guidelines – as per the first tenet of the Center's approach – and adjusting policies to meet future requirements, which, in turn, sets the tone for future-ready legislation.
As for the second dimension of the plan, research and development, and advanced training for employees, are considered enabling factors for a future-ready society, as is a developed infrastructure and future-focused financial capital. Focusing on the future, meanwhile, entails stimulating demand for future-centric services and products, and establishing an adequate value chain for them. Finally, the fourth pillar of the plan calls on governments to develop high-tech products and services, in addition to strengthening partnerships and joint ventures between the private and public sectors.
The UAE Center for Future Readiness is set to launch a number of initiatives to build government capacities. The initiatives will meet four key criteria: flexibility, data and models development, feasibility and scalability.
This innovative system builds on a range of enabling factors, including advanced knowledge, long-term strategy, environment and infrastructure, technology and leadership, talent, institutional culture, processes and resources.