The Department of Economic Development (DED) as part of its participation in the 10X initiative has announced the 'Dubai 3i' project.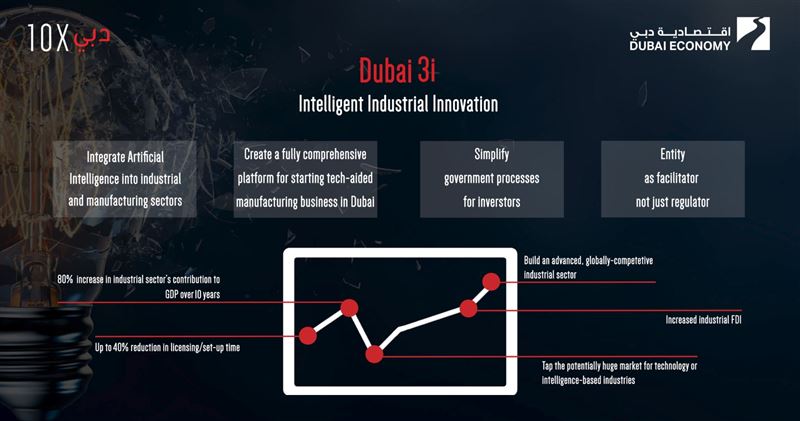 The project aims to create a future regulatory framework for an innovative and intelligent industrial sector.
Sami Al Qamzi, Director General of DED, said, "Dubai is racing ahead against time in everything it offers. Through the Dubai 3i initiative, we have set strategic and achievable objectives towards building a new and innovative industrial sector for the next 10 years and we aim to create a future government environment suitable for industries based on artificial intelligence in the emirate rather than being a routine government department. Dubai 3i will focus on creating a suitable future government environment for new industries based on artificial intelligence and smart industry."
The initiative seeks to create an innovative industry sector outside the traditional framework by providing live data on industrial opportunities, enabling industries to harness the latest technologies including artificial intelligence (AI), big data and 3D printing, and transforming the industry to be less labour-intensive and more technology-intensive.
3i, according to the government firm, will be a single point of facilitation providing complete support to industries and will seek to establish Dubai as an incubator for all modern industries, small and medium enterprises (SMEs), entrepreneurs and exporters.
Dubai 3i will particularly seek to become an incubator for companies and industries that offer services and products based on artificial intelligence as targeted by the Dubai 10X initiative and the emirates' Artificial Intelligence Strategy.
Al Qamzi added, "The Department of Economic Development does not deal with challenges as challenges, but we look at them as opportunities to communicate with our customers and find suitable solutions for them. We adopt strategies and reform them as needed, and we have created a work team led by Dubai Exports, which is one of our agencies, to co-ordinate with the industrial sector, and address the current and future needs of the sector in co-operation with local and federal agencies."
According to Al Qamzi, the most important objectives of Dubai 10X underline that the main axis of the initiative is the human. "The Dubai 3i initiative also looks at the person as our client, employee, or business owner, and we try to reduce time for them and transform the traditional concept of service delivery into one of providing solutions. We also seek to change the concept of an 'employee' from someone providing a specific service, to a person who can provide solutions for achieving the desired goals."