Airbus is taking passenger experience to a new level with the launch of its new augmented reality iOS app.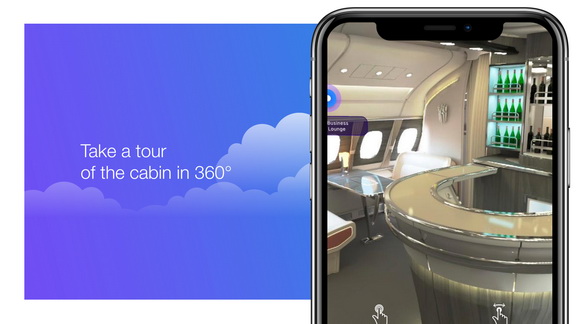 The iflyA380 iOS app takes advantage of Apple's latest technology to open the doors of its iconic A380 aircraft to more passengers worldwide.
The new app enhances Airbus' existing iflyA380.com booking assistant with more choices, features and content and new possibilities to interact with the A380, including taking a sneak peek at the cockpit.
Marc Fontaine, Airbus Digital Transformation Officer, said, "The iflyA380 app is a new step for Airbus towards offering digital services that directly benefit consumers and allow them to design their own experiences."
According to the firm, customers today increasingly expect to design their own experiences and the app gives them the power to do so. Booking flights and staying updated with real-time notifications are just the beginning and as digital proliferate industries the new app paves way for a new level of passenger experience.
Through the app travellers will also enjoy a wide range of exclusive innovative services linked to the A380, including the option to explore destinations based on geolocation and personal interests and cabin discovery in Virtual Reality. They will also enjoy a connected and immersive in-flight experience based on an Augmented Reality feature.
"Response to the iflyA380.com website has been fantastic," said Fotaine.
With this new app, Airbus is set to make the passengers' favourite flying experience even more memorable, from travel inspiration to their final destination.
Earlier this month, Emirates has announced a $16 billion (AED 58.7 billion) deal to acquire 36 additional Airbus A380 aircraft, with 20 firm orders and 16 options.
Together with the airline's 101-strong A380 fleet and its current order backlog for 41 aircraft, this new order brings Emirates' commitment to the A380 programme to 178 aircraft, worth over $60 billion. The additional Airbus A380s will be delivered to Emirates from 2020 onwards.
Find out more about iflyA380 App: