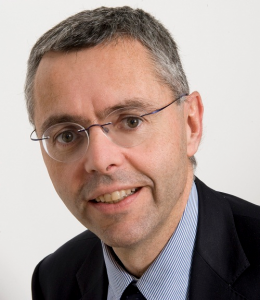 Alcatel-Lucent on Friday announced that its board of directors had appointed Michael Combes as the firm's new CEO, following Ben Verwaayen's resignation from the top job earlier this month.
Combes' appointment will be effective from April 1. He will also join the firm's board of directors, subject to shareholders' approval at the Alcatel-Lucent annual general meeting in May, the announcement said.
Combes, 51, has more than 20 years of experience in the telecommunications industry. He was CEO of Vodafone Europe and a board member for Vodafone PLC. He has also held the positions of Chairman and CEO of TDF, as well as CFO and Senior Executive Vice President of France Telecom.
"It is a great pleasure for us to welcome Michael Combes to Alctel-Lucent," said Philippe Camus, Chairman of the Board, Alcatel-Lucent. "As chief executive, he will be responsible for delivering sustainable profitability."
However, Combes has his work cut out for him; it was recently reported that the firm had posted a fourth-quarter loss of $1.81 billion. Some even pointed toward the losses as one of the reasons behind Verwaayen's resignation.
"Alcatel-Lucent is an unrivalled technology leader in the telecommunications industry with an immense array of talent and capabilities in R&D facing major challenges," Combes admitted, though he added that he was upbeat about taking on the role.
"This is a company I know well and I look forward to succeeding Ben, working with the key international customers, and driving the business into sustained profitability for its customers, employees and shareholders."
Camus shared Combes' optimism.
"[Combes'] deep knowledge of the industry as well as his experience of major business and financial transformation at a worldwide level will be pivotal in helping the company pursue its aggressive transformation, while meeting customer needs with disruptive innovation," he said.
"Ben and Michael will work closely together over the next few weeks to ensure a smooth transition."
Combes is joined by Jean C. Monty, who the firm's board has appointed as Vice-Chairman of the Board, effective immediately. Monty, 64, is a Canadian national whose last position was CEO and Chairman of the Board of Bell Canada Enterprises.
"We are fortunate to have such an experienced colleague to support Michael Combes  in his new role," said Camus about Monty. "I'm looking forward to working more closely with Jean, and I'm convinced Alcatel-Lucent will benefit from his incredible knowledge of our business."