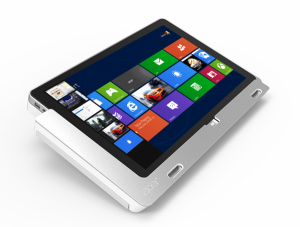 Now that Windows 8 is out in full force, a flood of tablets sporting the touch-friendly operating system has hit the market. But many of them aren't tablets as we've come to know them – instead, brands are opting to give users more flexibility by bundling in keyboards and cradles. The devices are so good that they're better described as touch-capable laptops with detachable screens, rather than tablets with attachable keyboards.
It's a niche meant to apply to someone who can't decide whether they want to buy a tablet or a laptop as their next device. As anyone who follows the news will tell you, the advent of tablet computers has caused PC sales are to decline, meaning manufacturers are having to find ways to woo buyers from both sides of the fence in order to make ends meet.
Acer, meanwhile, has created a niche within the niche with its Iconia W7. Much more capable than a traditional tablet – with a speedy, dual-core, Intel Core i5 processor and a stunning, Full HD, 11.6-inch screen – it, too, comes with a keyboard. The difference here is that the keyboard is wireless, and you get a cradle on which to mount the device whenever you're in "work" mode.
In theory, then, you could use it quite happily as a normal laptop in the office, and then leave the cradle and keyboard at your desk when you go home, where you'll use it as a tablet. At first glance, it looks like you're given the best of both worlds. You even get the full version of Windows 8 Pro, rather than the nasty RT version of the OS.
Without the stand, you get one USB 3.0 port plus a mini-HDMI port and a jack port for headphones. Not bad for a slate.
Connected to the stand, the tablet offers users three USB 3.0 ports, though annoyingly, there's no Ethernet port. The detachable keyboard is great to type on – each key is nicely weighted, and there are no issues with ergonomics. It might be worth investing in a mouse, as it does get annoying having to select everything by touching the screen when you're trying to use it like a normal laptop.
In terms of speed, you've got no issues at all. The i5 processor works like a dream, and the 4GB of memory keeps things running smoothly. Acer claims that the W7 takes just six seconds to boot up and 1.5 seconds to resume, and we see no reason to doubt that. The 128GB solid-state drive provides ample space before you need to think about backing up to an external hard drive.
As a productivity tool, then, the W7 works perfectly well. But how does it fare when you use it as a tablet? For one thing, it's a seriously stylish device to be seen with. The casing is all brushed metal and chunky-feeling switches. The wireless keyboard, meanwhile, looks almost identical to Apple's wireless keyboard. And the cradle that the device sits in gives it some sort of 21st-century aesthetic quality. The W7 wants passersby to know that it's a high-end product.
The touch screen functions are perfect, with the device registering multi touches with absolute precision. What's more, that stunning Full HD screen really puts competing tablets to shame when you're watching a movie or simply browsing the web. That said, Google's Chrome browser feels a little clunky on this device, with some touches never registering at all. That could be a general issue to do with Windows 8, rather than the W7, though.
The only real complaint comes with the weight of the device. At 950 grams in slate mode, the W7 is considerably heavier than most of its rivals. At first, you view the weight as an endearing quality – it adds to the sense of owning a quality product – but as you use the device for long periods of time, the strain the weight places on your arm quickly causes annoyance.
The weight issue is a shame, because I'd otherwise give the W7 a clean bill of health. Having said that, I can't fault the device over much else, except for perhaps the slightly pricey $999 RRP, which seems a little expensive for what is essentially a tablet bundled with a couple of add-ons. That said, whether you're looking to work or play, the W7 delivers in spades.
Ratings
Hardware: 9/10
Performance: 9/10
Value for money: 7/10