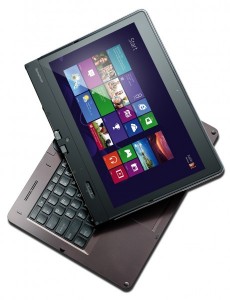 At this year's Consumer Electronics Show, Lenovo was all about the convertible laptops. Among the barrage of new devices that it debuted, two of the firm's biggest releases turned out to be the IdeaPad Yoga 11S and the ThinkPad Helix. Both were convertibles powered by an Intel Core i processor and running Windows 8 Pro.
The thing is, Lenovo has been building convertible laptops for a while, and leading the class by a large distance. They haven't all come with detachable screens – as is the case with the Helix – but Lenovo is no stranger to the format by any means. This much is clear after a minute's use with the brand's ThinkPad Twist, a relatively low-priced and touch-enabled 12.5-inch Ultrabook designed for Windows 8.
As the device's name suggests, the laptop's screen can be twisted and then folded back flat to be used as a tablet. Head to the Lenovo website, and the brand will actually say that it allows for four different modes of viewing. You can have laptop mode, "stand mode", tablet mode and "tent mode". The claim of being able to accommodate stand and tent modes is a little dubious, as they're simply half-way in between the laptop and tablet modes, but the point the brand is trying to make is that this is a flexible device.
We'll start with the laptop mode, as the Twist is, first and foremost, an Ultrabook. As is the case with pretty much every Lenovo, you get a choice of specs to populate the device with, meaning you can have either a Core i5 or i7 processor, up to 8GB of RAM and either a 500GB hybrid hard drive or 128GB of SSD storage. Pretty par for the course, in Ultrabook terms, but the sub-$800 starting price means that you get a decent amount of kit for a relatively small outlay.
That price also gets you Lenovo's famous build quality, for the most part. The screen's rotating hinge feels very solid, and the keys are easily best-in-class. The keys are nicely weighted, perfectly spaced and are moulded in a concave fashion so that your fingers fit onto them comfortably. The buttonless touchpad below the keyboard is also fantastic, as is the so-called TrackPoint mouse ball in the centre of the keyboard.
That said, the plastic casing around the keyboard feels a little second-rate, as does the casing around the "tablet" part of the screen. Yes, the keyboard might be able to survive a glass of water being spilt over it, but it the device as a whole doesn't seem to speak of the tough build quality that you'd normally expect from a Lenovo. Again, though, this laptop is cheap, so it's probably a case of you get what you pay for.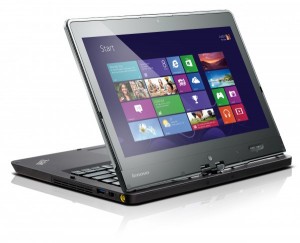 Where the device exceeds the expectations set by its price is in the area of connectivity. Not only do you get a SIM card slot with a protective hinged cover, but there's also a Gigabit Ethernet port, two USB 3.0 ports and an SDXC card reader. Of course, Wi-Fi comes as standard, as does Bluetooth 4.0, but the optional 3G broadband is a particularly nice little touch. It'd make the device much more portable than many of its competitors.
In laptop mode, then, the device excels, particularly at this price point. When we delve into the tablet mode, however, things start to go a little downhill. It might be great to be able to swivel the screen round and use it like a tablet, but the reality is that the device feels a little heavy and cumbersome to use in this format. Certainly, there are worse convertible laptops out there, but you'll find that you hardly use the Twist in tablet mode, simply because it's not that comfortable to do so.
This doesn't mean, however, that the touchscreen itself isn't any good. It might only have five-finger multi-touch – a number of competitors offer 10-point touch – but the screen is extremely responsive. We found no problem flicking through the tiles on the Windows 8 Start screen. And when you attempt more precise inputs – such as closing a window by touching the "X" at the top-right of the screen, rather than moving to it with your mouse pointer – you still don't have any worries.
Indeed, it begins to become second-nature to touch at parts of the screen when you're in laptop mode. Zooming in on things or else selecting icons on the opposite side of the screen to where your mouse pointer is becomes much less of a hassle when you start using the touch functions. You might not want to use this laptop in tablet mode, then, but it's certainly nice having a touchscreen at your disposal.
Talking of the screen, you get a resolution of 1,366 by 768, which is nothing to write home about, but is good enough for a display of this size. It's nice and bright when you're indoors, and you're given good protection by a film of Gorilla glass over the top of the screen. However, the Gorilla glass does affect outdoor usability, as it enhances the reflections you can see.
In terms of performance, even the base-spec model, with the Intel Core i5 processor and 4GB of RAM, will provide more than enough oomph for everyday working life. Indeed, with its 500GB hard drive, the base model could be the ideal choice for anyone with a budget for a new office laptop. If you just need a decent computer for running Microsoft Office and browsing the web, you don't need to look much further.
Indeed, if you're looking for a decent convertible laptop, you needn't look much further than the Twist. The only reason you wouldn't buy one is if you were set on owning a laptop with a properly detachable screen. A couple of build-quality issues aside, this is so far ahead of its similarly priced competitors in terms of specs that it should be the obvious choice. But what do you expect from Lenovo? As the brand proved at CES, it's all about convertibles.
The verdict
Lenovo clearly knows what it's doing in the convertible laptop segment – it's been leading the market for years. Aside from a couple of build-quality issues, and the fact that it may not make much sense as a full-on tablet computer, the ThinkPad Twist excels as a touch-enabled Ultrabook. And considering the price, we can't see much else on the market that will give you more for less.
Ratings
Hardware: 7/10
Performance: 8/10
Value for money: 8/10