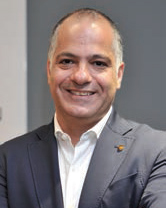 Almasa Value Distribution, part of Almasa IT Distribution, celebrating its 20th year of operations in the region, is planning to focus on partner enablement and build channel loyalty to fuel its growth.
The VAD, which has four vendors in its portfolio, is also planning to add three more vendors in the coming year.
"We remain focused on expanding our portfolio and expanding our channel reach," says Roger El-Tawil, Executive Director of Almasa Value Distribution. "However, our strategy is to focus on companies which have compelling, niche offerings and are complementary to the existing portfolio. This helps us to focus more on the top performing segments such as healthcare, education and retail. We have also expanded our relationship with existing vendors and a case in point is LG. We are now the official distributor for LG's TV solutions for the hospitality sector."
El-Tawil says some technology trends such as cloud, Big Data and IoT are quickly gaining traction in the region. "However, we are still in the infrastructure phase of these trends. Mobility is also a big trend, because people in this region are always on the lookout for ways to stay connected at any time, anywhere."
Unlike other VADs with burgeoning portfolios, Almasa Value Distrubution remains focused on its target segments, with niche offerings. "This is what differentiates us. Instead of trying to sell everything and keep changing our offerings, our strategy is to concentrate on the verticals we deal with, and make sure that we have right people and skills on board to drive the business forward,"says El-Tawil.
He adds that Almasa has forged channel initiatives with vendor partners, and plans to bring in new products and value-added solutions to the verticals they are currently serving to increase the company's wallet share. "A lot of our initiatives entail educating the channel on these verticals and the solutions related to this. The sectors that we'll continue to focus on are retail, hospitality, healthcare
and education. We will continue our momentum in these industries. We are also seeing mid-market industries and SMBs doing well in the coming years and we plan to cash in on those segments."