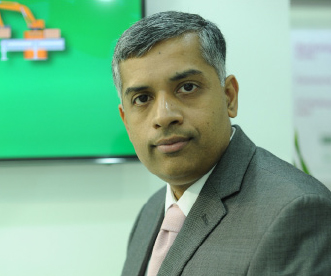 Redington Value, the value-added distribution arm of Redington Gulf, has focused on transforming itself into a solutions player over the last year. This continues to be the emphasis for the regional distributor at GITEX 2015.
Ramkumar  Balakrishnan, President, Value Distribution, Redington Gulf, says, "In our journey to become a stronger solutions player, we have worked on developing our four strategic business units – Virtual Computing Group, security, convergence and infrastructure and server and storage – over the last year."
Within the Virtual Computing Group, the company works with the likes of VCE, EMC, Cisco and VMware, where the primary focus is around converged systems.
"We are a leading distributor for EMC's VSPEX Blue programme from a hyper-convergence perspective,"Balakrishnan adds. "We are also working closely with VMware on SDN, NSX platform and VSAN, which is on the storage virtualisation front."
Under the security business unit, the company has added brands including Fidelis, Niksun and Shavlik, earlier in the year. Fortinet has also signed the distributor as its new VAD for the Middle East region recently.
"This partnership is going to enable us to collaborate with the vendor and with the entire partner community as a true enterprise security offering," Balakrishnan says.
The company has carried out several significant projects for Avaya across West Africa within the convergence and infrastructure business unit in the past year.
"We are also setting up a solutions centre for Oracle in Saudi, which is purely based on cloud. We can now demonstrate their PaaS and SaaS solutions, which is a big development for us."
Under the server and storage business unit, the distributor has extended its relationship with Dell across the Middle East region, which was previously covering only Africa.
At GITEX 2015, the company has announced the launch of its new cloud business unit and introduced its integrated cloud platform, RedCloud to the region. The platform is aimed to offer a one-stop solution for customers' complete enterprise cloud requirements.
Over the coming months, we will see the VAD setting up a full-fledged solutions centre in Dubai, consolidating its robust portfolio and becoming an authorised training partner for many of its vendors.
"Partners can look forward to a number of initiatives from us such as extensive training and more engagement in terms of bringing them closer to their vendors," Balakrishnan adds.