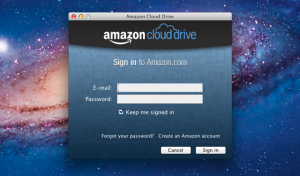 Amazon is making a serious play for Dropbox and Google Drive users with a new file-syncing feature in its Cloud Drive storage service. 
iTunes Match and iCloud – both from Apple – lead the cloud storage services with a combined 27 percent of the market, according to a March report from Strategy Analytics. But at 15 percent, Cloud Drive is nearly tied with Dropbox, which controls 17 percent of the market. File-syncing across devices brings Cloud Drive's offerings in line with what Dropbox and other services provide, but with the advantage of having Amazon and its digital media muscle behind it.
Amazon offers 5GB of free Cloud Drive storage with additional storage available at tiered price plans that start at 20GB for $10 a year. iCloud also includes 5GB of free storage and 20GB for $40 a year. DropBox offers free 2GB of storage and 100GB for $10 a month.
Amazon introduced Cloud Drive two years ago primarily as a way to compete with iTunes. Before iCloud let you sync music across your devices and redownload songs you had previously purchased but then lost, Cloud Drive users could store MP3s from Amazon's music store and listen to them on any computer or Android device.
Cloud Drive wasn't solely intended for music, but that was the main thrust of its launch. Amazon last year separated Cloud Drive from Cloud Player, requiring users to upload music to both services – one for storage, the other for playback. Cloud Drive became a document database more than a music locker.
Amazon began to overhaul Cloud Drive last year to compete with other cloud services. Last May, Amazon released a desktop app for Mac and Windows so users could drag and drop files within the client instead of uploading them to the Web. But there was no way to sync files across multiple devices. Now that Amazon users can access their content on any device – and the same goes for iTunes/iCloud users, Microsoft SkyDrive fans, and Google Drive devotees – services that offer storage but not content may lose relevance.