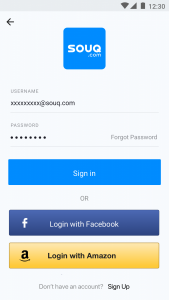 Amazon has officially completed the acquisition of Middle East based e-commerce player Souq.com. As the first step of integration, customers can now log on to Souq.com using their Amazon credentials, the company said.
According to Souq.com, joining the Amazon family enables it to continue to bring even more products and services to customers in the region and further expand 'Fulfilled by Souq' to empower sellers.
"It is an exhilarating time for the e-commerce industry in the region. Together with Amazon, our goal is to offer our customers the widest product selection, great prices, improved delivery times and first-rate customer service," said Ronaldo Mouchawar, Souq.com CEO and co-founder. "Integration of Amazon's technology and global resources with our local expertise will help us to offer a great service to our loyal customers."
"We are excited to be able to provide our customers in the Middle East with the benefit of easy access to Souq.com using their Amazon credentials. We are working to quickly integrate Souq.com and Amazon capabilities, in terms of both customer experience and fulfillment, to provide an ever-improving shopping experience for customers in the Middle East," said Russ Grandinetti, Amazon senior vice president, International Consumer.
According to the statement released, Amazon and Souq.com are seamlessly moving into the next phase of the integration to bring more products and offerings to the region's customers even faster.