Tahawultech.com's Deputy Editor Daniel Shepherd reviews Amazon's Echo Show 8 and Echo Dot, intended to take care of all your voice service Alexa needs.
Designed to work in tandem with each other, the Echo Show takes advantage of the voice commands received by the Echo Dot to display photos in adaptive colour, set reminders, see through compatible cameras and much more via the cloud-based voice service Alexa. Alexa is now available in Khaleeji Arabic in addition to the English language.
Now let us take a closer examination of the devices in question.
The Echo Show 8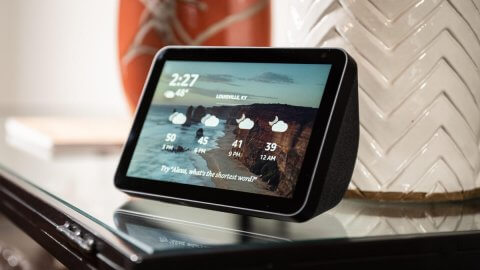 This second generation device is designed with a built-in 13 MP wide-angle camera and an 8″ touchscreen that allows for image display with adaptive colour. The device also features dual speakers to deliver a great experience whether that's listening to music from services such as Spotify, or watching TV shows and movies on Prime Video.
The Echo Dot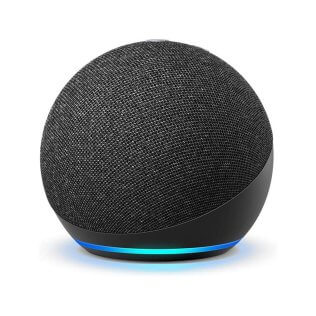 Echo Dot has a spherical design and fabric finish, making it a stylish way to add Alexa to any space. It's compact, but packs in a 1.6-inch, front-firing speaker, producing crisp vocals and balanced bass for full sound that can be enjoyed throughout your home. Echo Dot with clock comes with the same features as Echo Dot, plus a simple LED display so you can glance at the time, timers, and alarms.
Functionality and Accessibility 
In combination with Alexa, the Echo Dot are the Show 8 are capable of numerous commands that give the products a great degree of versatility. Once set up correctly the devices can become a key element of routines and daily rituals from morning alarms or reading a news update from your preferred sources, to prayer reminders and even acting the part of a cooking instructor. The Dot in particular can be used to broadcast a dinner announcement whilst acting as a hands free intercom for the home, whereas the Show can play your preferred music playlists and TV shows via your service of choice. The Echo Show in particular can even be configured as a smart home device and security camera that will surely provide many users with peace of mind concerning the state of their home.
The Alexa, Echo Show and the Echo Dot are built with layers of privacy protection which allow for users to easily review and delete any stored voice recordings. For those concerned about relying on voice functionality 24/7, the Alexa does come with Tap to Alexa. This setting allows for people to interact with Alexa using touch instead of voice.
Sustainability
On the more Eco-friendly side, Amazon have made assurances that Echo Show and Dot Devices are built with 100% post-consumer recycled fabric and 100% recycled die-cast aluminium. In addition to sustainable materials, Echo Show devices have a Low Power Mode to intelligently conserve energy during periods of inactivity and deliver energy savings.
The Verdict
In summary, the Echo Dot and Show are must haves for the tech-savvy consumer determined to set themselves up with a smart home system. Whilst this reviewer sees the value of the getting both devices to complement each other, currently, the Echo Show is the more feature-packed of the two. However it is important not to undersell the compact yet well-designed sound system inherent to the Dot that is sure to win over many prospective consumers as the beginning of their investment into a proper smart home system.
Pricing and availability in UAE
Amazon Echo Dot (3rd gen): 189,99 AED, Charcoal
Amazon Echo Dot (4th gen): 229,99 AED, Charcoal, White and Blue
Amazon Echo Dot (4th gen) with clock: 279,99 AED, White and Blue
Amazon Echo (4th gen): 449,99 AED, Charcoal, White and Blue
Amazon Echo Show 5 (2nd gen) 349,99 AED in Charcoal, White and Blue
Amazon Echo Show 8 (2nd gen): 549,99 AED in Charcoal and White
Amazon Echo Show 10 (3rd gen): 1099,99 AED in Charcoal and White