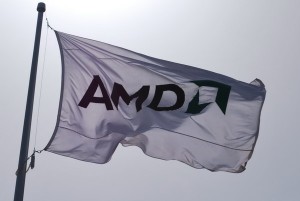 To break its slump in the server market, Advanced Micro Devices is embarking on an aggressive strategy that calls for ARM and x86 chips by 2014 and continued improvements to its Opteron line in the meantime.
The company on Tuesday introduced low-power Opteron processors, which are targeted for use in cloud servers that process Web transactions. The new Opteron 4300 and 3300 x86 server chips have up to eight cores and are targeted at entry-level and mid-range servers.
The nine new chips could be used in the company's SeaMicro dense servers, which already employ the older 4200 and 3200 server chips. The previous chips were introduced late last year, and the new chips provide performance and power consumption upgrades.
AMD is trying to spark its slumping server business with the updates to its x86 server chips, and also through ARM-based servers, which the company will start selling in 2014. While x86 processors are expected to remain a mainstay, AMD's goal is to mix and match x86 and power-efficient ARM processors in servers to address workloads ranging from databases to the Web-based transaction processing. AMD last month started shipping the Opteron 6300 server chips for midrange and high-end servers.
AMD had a 4.5 percent share of the x86 server processor market in the third quarter this year, down from a 5.2 percent share in the same quarter last year, according to Mercury Research. Intel had the remaining market share. AMD's third-quarter server market share peaked in 2006, when it had a 24 percent share.
The Opteron 4300 and 3300 chips are targeted at the fast-growing market for cloud servers, in which a large number of transactions are processed at any given moment, said Dean McCarron, Principal Analyst at Mercury Research.
Cloud servers represent a high-volume market, so every design win is important for AMD as it tries to catch up with Intel, McCarron said. The new chips will compete with Intel's Xeon x86 server chips for single- or dual-socket servers.
Like every new generation of chips, the new Opteron processors are expected deliver better performance while drawing less power. The six Opteron 4300 chips have between four and eight cores, and draw between 35 watts and 65 watts of power. The chips on average are 15 percent faster than the older Opteron 4200 chips, which are based on the Bulldozer core, according to AMD benchmarks.
The chips are based on the new Piledriver architecture, which is loosely based on the older Bulldozer architecture, but has a more efficient mix of CPU, integer and floating point units to execute more operations per cycle. Server chips based on Bulldozer were considered a disappointment by independent benchmarking organisations, including Anandtech, and AMD moved quickly to update PC and server chips with the Piledriver cores.
The 4300 chips have a base speed of between 2.2GHz and 3.1GHz, which can be accelerated to 3.8GHz for specific applications. The lowest-priced six-core Opteron 4334 is priced at US$191, while the most expensive is the eight-core Opteron 4376 HE, which is priced at $501. The prices depend on features in the chip.
The low-end Opteron 3300 chips provide enterprise-class features in a low power envelope "at a desktop processor price," AMD said in a statement. The three chips draw between 25 watts and 65 watts of power and have clock speeds of 1.9GHz and 2.6GHz, which can be cranked up to 3.6GHz in turbo mode. The chips are priced between $174 for the quad-core Opteron 3320 EE to $229 for the eight-core Opteron 3380.
The chips will support the Windows and Linux operating systems. AMD did not immediately comment on which servers will carry the new processors.