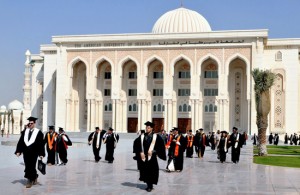 American University of Sharjah (AUS) has selected SunGard Higher Education, a provider of technology solutions for universities and colleges, to help manage relations with its alumni and other key stakeholders.
AUS will use SunGard Higher Education's Advance, a web-based solution developed specifically for higher education institutions, to help manage alumni relations programs, business processes and corporate relations. The solution is designed to help higher education institutions engage constituents more effectively and operate more efficiently.
When implemented, Advance will help AUS integrate its processes from end-to-end to support functions leading to improved communication, information access, corporate partners management, tracking and reporting.  The integrated system will also help simplify access to accurate and timely information for alumni affairs officers, and help make their 'touch points' with corporate partners more relevant and productive.
"We have chosen Advance from SunGard Higher Education because of its track record of success among some of the finest universities in the world," said Dr. Peter Heath, chancellor, American University of Sharjah.
"The best universities and colleges worldwide have very effective systems for alumni and stakeholders relations, and AUS is looking to benchmark best practices from these A-list institutions of higher learning," said Dr. Nada Mourtada-Sabbah, vice chancellor for Development and Alumni Affairs, American University of Sharjah.
Mathew Boice, vice president EMEA and India, SunGard Higher Education said, "The ability to develop and nurture lifelong relationships with alumni and other key stakeholders is one measure of an institution's success.  AUS is building this capability with the adoption of Advance, and we are pleased to be part of this remarkable drive for excellence."
AUS currently performs all functions related to alumni and some key stakeholder relations through its Office of Development and Alumni Affairs (ODAA).  The office serves as a liaison between the University and its different audiences including industry leaders and the corporate community. The ODAA strives to ensure continued growth of the institution while providing key initiatives, executive capacity-building/training opportunities, and relevant outreach programs to its stakeholders. ODAA also provides resources and furnishes state-of-the-art services to prepare a broadly educated and talented workforce.