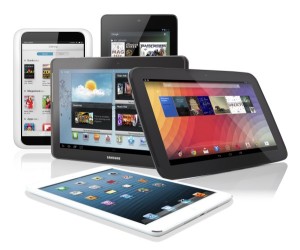 The iPad has been the king of tablets for a number of years but Android has taken top spot, according to new figures.
Research firm Gartner has released its research on the tablet market which states a whopping 195.4 million tablets were shipped in 2013 – up from 116 million in 2012. More interesting is that most of them were Android-based, not iPads running iOS.
Things were pretty even in 2012 with iOS leading with 52.8 percent of the market and Android on 45.8 percent. But last year saw a rapid increase in Android tablets taking its market share to 61.9 percent while Apple's dropped to 36 percent – despite growth in the fourth quarter with the launch of the iPad Air and iPad mini Retina.
Apple shipped 70.4 million iPads compared to a whopping 120.9 million Android tablets. Budget devices like the Nexus 7 and Tesco Hudl have fuelled the 127 percent growth.
"In 2013, tablets became a mainstream phenomenon, with a vast choice of Android-based tablets being within the budget of mainstream consumers while still offering adequate specifications," said Roberta Cozza, research director, Gartner.
Apple remains the top vendor in the tablet space even though its market share has dropped. This is because Android devices are made by various different companies which partner with Google.
Samsung is the top Android vendor and has increased its market share from 7.4 percent in 2012 to 19.1 percent last year. The firm's growth in shipments was an impressive 336 percent.
Although still a small player in the tablet market, Microsoft managed to double its market share of Windows-based tablets year-on-year from 1 percent to 2.1 percent.
Gartner also said that tablets represented 90 percent of overall 'Ultramobile' sales in 201. The category includes hybrids and clamshells (regular laptops). Interestingly, emerging markets recorded growth of 145 per cent in 2013, while mature markets grew just 31 percent.