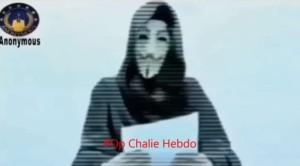 Hacktivist group Anonymous have released a video threatening to exact revenge on terrorist groups following the Paris shootings of 16 civilians.
Uploaded to the group's Belgian account, the video features a masked figure, who says in French that Anonymous has "a message for al-Qaeda, the Islamic State and other terrorists".
The video is a response to an initial attack on satirical magazine Charlie Hebdo, which left eight journalists and two police officers dead, and was followed up by an attack on a supermarket in eastern Paris, in which four people were killed.
The gunmen responsible for the Charlie Hebdo shootings, Algerians Cherif and Said Kouachi, were shot and killed by police following a siege.
In the clip, the #OpCharlieHebdo – Operation Charlie Hebdo – is featured on screen, and the figure, whose voice is obscured says: "We are declaring war against you, the terrorists."
The campaigner goes on to say that the group will track down and close all accounts on social networks related to terrorists in order to avenge those who have been killed.
Anonymous are a group comprised of activists and hackers who claim to defend and protect democracy.
In the past the group have carried out distributed denial-of-service (DDoS) attacks against government, religious, and corporate websites.