Apple has pushed the launch of its HomePod smart speaker to early next year from December, the company said on Friday, missing the holiday shopping season as the market for such devices becomes increasingly competitive, according to Reuters.
"We can't wait for people to experience HomePod … but we need a little more time before it's ready for our customers. We'll start shipping in the U.S., UK and Australia in early 2018," an Apple spokeswoman told Reuters via email.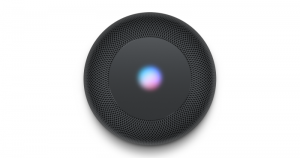 Apple introduced the voice-controlled HomePod in June. The speaker, which can make music suggestions and adjust home temperatures, takes aim at Amazon.com Inc's Alexa feature and Echo devices.
Apple has forecast between $84 billion and $87 billion in revenue for the holiday – mostly driven by sales of its $999 iPhone X – so it's unlikely that missing a few weeks of sales of its $349 speaker will affect its financial results, Bob O'Donnell, founder of Technalysis Research, said.
The indirect effects will have a stronger negative impact, he said. Apple is working to keep its Siri voice assistant relevant in the face of competition from Amazon's Alexa and Alphabet Inc's Google Assistant, both of which are featured on smart speakers from those companies.
People use voice assistants more often on smart speakers than on phones, so even if owners of Amazon or Google speakers also have an iPhone, there's a good chance that they're talking to Alexa or Google Assistant as much or more than Siri.
Apple is also counting on HomePod to boost subscriptions to Apple Music and block the rise of rival Spotify. Smart speakers from Google and Amazon let users give voice commands to play Spotify, but Apple Music does not work on the rival devices.
Apple's main pitch for its HomePod smart speakers was superior audio quality, but that advantage appears to be slipping: Sonos, which also pitches its speakers' audio quality for music lovers, now features support for the Alexa voice assistant.