Apple has recently introduced the latest edition of its MacBook Pro, which comes in 13-inch and 15-inch sizes, in both Silver and Space Gray colour options.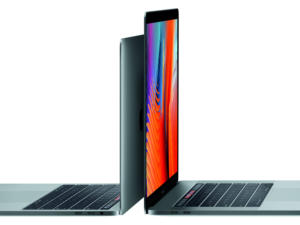 The devices according to Apple, is equipped with a breakthrough interface that replaces the traditional row of function keys with a brilliant, Retina-quality Multi-Touch display called the Touch Bar. The new MacBook Pro features the latest Retina display from the company, a Touch ID, a "more responsive" keyboard, a larger Force Touch trackpad and an audio system with double the dynamic range.
They are powered by a sixth-generation quad-core and dual-core processors, up to 2.3 times the graphics performance over the previous generation, super-fast SSDs and up to four Thunderbolt 3 ports.
The laptops also feature the new Touch Bar, which places controls right at the user's fingertips and adapts when using the system or apps like Mail, Finder, Calendar, Numbers, GarageBand, Final Cut Pro X and many more, including third-party apps. For example, the Touch Bar can show Tabs and Favorites in Safari, enable easy access to emoji in Messages, provide a simple way to edit images or scrub through videos in Photos and so much more. It has a built-in Retina Multi-Touch display above the keyboard.
"In celebration of the 25th anniversary of Apple's first notebook; through the years each generation has introduced new innovations and capabilities, and it's fitting that this all-new generation of MacBook Pro is the biggest leap forward yet," said Phil Schiller, Senior Vice President, Worldwide Marketing, Apple. "With the groundbreaking new Touch Bar, the convenience of Touch ID, the best Mac display ever, powerful performance, improved audio, blazing-fast storage and Thunderbolt 3 connectivity in our thinnest and lightest pro notebook yet, the new MacBook Pro is the most advanced notebook ever made."
The new MacBook Pro features an entirely new enclosure design and all-metal unibody construction. At just 14.9 mm thin, the 13-inch MacBook Pro is 17 percent thinner and 23 percent less volume than the previous generation, and nearly half a pound lighter at just three pounds. The new 15-inch MacBook Pro, at just 15.5 mm thin, is 14 percent thinner and 20 percent less volume than before, and weighing just four pounds, is nearly half a pound lighter.
The 13-inch model comes with either a Core i5 or i7 depending on your preference, with Intel Iris graphics and Superfast SSD storage, while the 15-inch device comes with Intel Core i7 with sixth generation quad core processor.