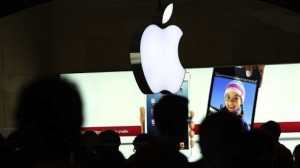 Apple reported a drop in profits on roughly flat revenue for the April to June quarter, though the results were ahead of analysts' expectations, providing something of a silver lining for the company.
Revenue was $35.3 billion, up 1 percent from the same quarter in 2012, and profit was $6.9 billion, down 22 percent. Earnings were $7.47, ahead of the $7.32 expected by analysts, according to Thomson Reuters.
Within seconds of the results being announced, Apple's shares jumped in after-hours trading from $419 per share to $435.
The results weren't a surprise as Apple had already said it was expecting a weak quarter. Sales were down in part because the company didn't have an earnings-boosting big product launch in the quarter, and because it faces increasing competition from Android-based devices.
Sales of the iPhone hit 31.2 million during the quarter, a record for the period, according to Apple. But iPad sales were weaker, coming in at 14.6 million units, against 17 million in the same period of 2012. Sales of Mac computers were also down, from 4 million units to 3.8 million.
Gross margins on products were 36.9 percent in the quarter, down from 42.8 percent last year.
"We are especially proud of our record June quarter iPhone sales of over 31 million and the strong growth in revenue from iTunes, Software and Services," Tim Cook, Apple CEO, said in a statement.
Apple's earnings are closely watched by the IT and investing community, and only partly because of the results. Just as important is the company's forecast for the current quarter, which in this case runs from July to September.
Apple said it expects revenue during the three-month period to be between $34 billion and $37 billion. In the fiscal fourth quarter of 2012 it had revenue of $36 billion. Gross margins are expected to remain steady with the third quarter reported Tuesday.
What investors really want to know is when they can expect more new products from Apple. On that, Cook was typically guarded.
"We are really excited about the upcoming releases of iOS 7 and OS X Mavericks, and we are laser-focused and working hard on some amazing new products that we will introduce in the fall and across 2014," he said in the statement.