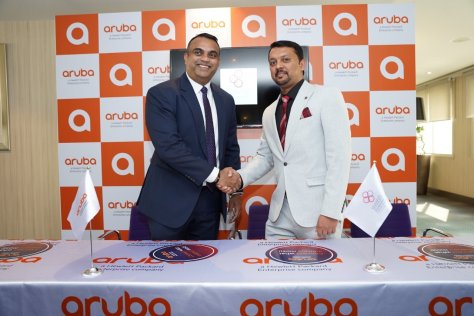 Aruba, a Hewlett Packard Enterprise company, today reinforced its commitment to collaborate with Swiss International Scientific School (SISD), ranked as one of the top 100 private schools in the world, and provide reliable and best-in-class connectivity that will serve as a platform for innovation for the institution.
SISD, situated in Dubai Healthcare City, is a leading international day and boarding school where future generations are inspired to become confident and enthusiastic lifelong learners, ready to embrace the opportunities and challenges of a global world.
"As an IB world school, SISD shares a commitment to high quality, challenging, and international education. Teachers, students, school administration, parents and other stakeholders increasingly rely on connectivity and digital processes to seamlessly carry out their day-to-day work. Documentation and learning materials have moved online, and stakeholders access them on multiple devices from multiple locations. We rely on Aruba as a digital transformation partner, to help us create stronger, smarter networks so as to enhance learning experiences", says Mr. Manoj Mohan, ICT Team Lead at SISD.
As a sign of Aruba's commitment to partner and support with SISD, the vendor presented an award of appreciation to Mr. Mohan during GITEX Technology Week.
Jacob Chacko, Regional Director, Middle East, Saudi & South Africa at Aruba, a Hewlett Packard Enterprise company says, "Aruba's technology for the education sector removes the boundaries of campus and creates a fully integrated, secure learning environment that enables anywhere, anytime teaching and learning. We are proud to partner and collaborate with SISD in their efforts to enable the most meaningful education digitalisation initiatives".
SISD has already been working successfully with Aruba. The vendor's Wi-Fi 6 (802.11.ax) infrastructure has helped set up a fully functioning digital learning environment for SISD. Aruba's Edge Services Platform simplifies network operations, delivering the always-on and secure experience that students and administrators require.