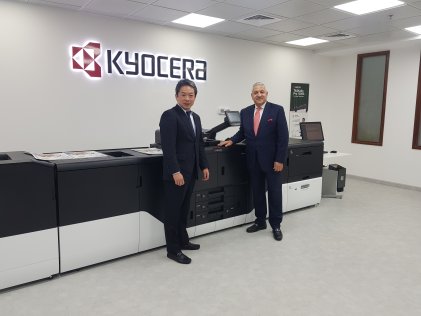 GCG-Enterprise Solutions, which serves as a member of Ghobash Group, recently announced that its successful, long-term partnership with KYOCERA Document Solutions "Kyocera" – the premier developers of Commercial Inkjet Printers, MFPs, and Enterprise Content Management Solutions – has resulted in another milestone achievement, with the opening of their Regional Experience Centre in Dubai.
Situated on the ground floor of Ghobash Group's Makeen Building headquarters in Dubai, the purpose-designed demo-facility will showcase Kyocera's highly-anticipated TASKalfa Pro 15000c line of Inkjet Commercial Printers, demonstrating the innovation, productivity, efficiencies and benefits which the range uniquely delivers.
The official inauguration ceremony, held on October 11th, witnessed senior leadership and management teams from Kyocera, Ghobash Group, as well as GCG-Enterprise Solutions, hosting a notable guest list, comprising GCG-Enterprise Solutions' clients and other associated partners.
Kyocera is committed to facilitating the digital shift within the printing industry, as a means of boosting overall productivity and promoting sustained value generation and organisational growth for its customers. The new TASKalfa Pro15000c Commercial Printers range represents the pinnacle of Inkjet print production capabilities, enabling enterprise teams to benefit from unbeatable reliability, flexibility and consistency, resulting in minimised downtime and optimised workflows. The high-speed production inkjet printing range also sets new benchmarks for outstanding image quality.
Expressing Kyocera's commitment to regional clients and reiterating their brand philosophy at the event, Marcel Ebbenhorst, Manager Production Print stated that "We are focused on creating exciting new products and solutions that transcend the traditional paradigm of the office workplace. What is clear today is that as the landscape shifts rapidly, Inkjet will continue to disrupt the market. The key to sustained growth lies in being flexible enough to identify and adapt to the changing needs and expectations of the marketplace. We use this knowledge to create new forms of value. With the combined resources and expertise of the Kyocera Group, we are very pleased to supply a range of exciting new products designed to promote the digital shift driving productivity and growth in the printing industry".
Also elaborating on the partnership as well as the new product offering was GCG-Enterprise Solutions' General Manager, Naser Darwazeh, who thanked the attendees for their support and expressed great optimism for the success of the latest product line: "With Kyocera, we continue to grow from strength to greater strength, as we share in their values and vision for the market's future. This natural alignment has led to the ongoing growth of our market penetration efforts, as well as our market share. Inkjet technology in general and TASKalfa Pro 15000c range in specific, present a huge opportunity for us to answer to changing customer demands for quicker turnaround times, shorter job lengths and the personalisation of print materials. Kyocera delivers the cutting-edge, when it comes to quality, affordability and higher productivity, unlocking the full growth potential of our customers' businesses. We are very excited to be playing our part in this ongoing success story".