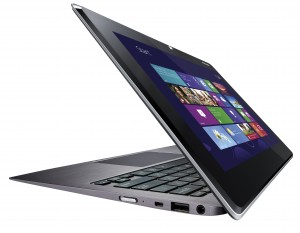 Asus today unveiled a completely new line-up of Windows 8 products, including notebooks, tablets, all-in-one PCs and a unique dual-screen device.
According to Asus, the new range enables new forms of functionality and applications targeting the entire spectrum of home and office users, while setting a new standard in performance, ease of use and innovative design.
"With Windows 8, Asus has taken mobile device families one step closer towards amalgamation. The distinction between keyboard-based devices and touch-based devices is heading towards extinction. Windows 8 is the bridge that has allowed Asus to blur former device categorisations and spawn a new generation of products that bring touch, the next phase in human-computer interactivity, to a wide range of traditionally keyboard-based enterprise, creativity and entertainment applications," said Leon Yu, Regional Direction, Asus.
"The arrival of Windows 8 with touch, Asus' push towards cloud computing and our use of innovative product design, all combine our new line up to bring technology to users that is exciting and intuitive. Users can now access their content anywhere in a much more personalised way. These products are the result of our endless search for the incredible and persistence at bringing the richest digital experience to users," Yu added.
The front-runner amongst the new launches is the Taichi. A fusion of notebook and tablet, Asus Taichi is an ultra-slim notebook that features a unique dual-screen design with 1080p IPS displays. In standard mode, Asus Taichi is a convertible and powerful Ultrabook designed for demanding productivity tasks.
In tablet mode, Asus Taichi is a "lightweight powerhouse" featuring intuitive multi-touch capabilities optimised for Windows 8. In dual screen mode, both screens can also be used simultaneously or independently for user flexibility.
According to Asus, the Transformer Book is the world's first detachable notebook to combine the best features of a notebook and tablet. When it comes to work, it is a fully featured notebook with high-capacity storage and connectivity options. Then when it comes to play or travel, the high-definition display detaches from the keyboard dock and the Transformer Book becomes the thinnest and most powerful Intel Core i7 based multi-touch Windows 8 tablet available today.
Asus referred to its VivoBook Series as the "world's most affordable touch innovation." The S200 is entering the market at 1499AED, whilst the S400 costs 2299AED. With specifications that include 3rd generation Intel Core processors for multi-tasking performance, VivoBook is available with an 11.6" of 14" high-definition screen and features a large multi-touch touchpad and a choice of hard drive and hybrid storage.