Four Emirati students from the Department of Computer Science and Engineering at American University of Sharjah (AUS) have designed and developed an innovative senior project that aims to lower the rate of car accidents in the UAE.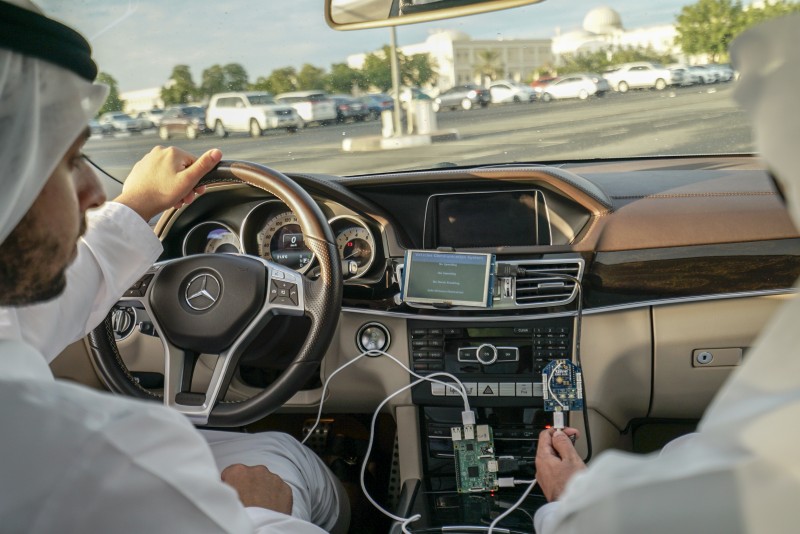 The "smart system" helps drivers detect the driving activity of surrounding vehicles. It is a simple and affordable device that aims to notify drivers of irregular driving behaviour around their vehicles at a radius of their choice that can go up to several kilometres. The device serves drivers in becoming more alert of possible threats from others and detects reckless driving activity such as tailgating, speeding, frequent braking, swerving, and others.
It was developed by AUS students Saud AlQasimi, Abdalla Al Noman, Abdulla Ahli and Mohamed Al Marashda. The students were supervised by Dr. Fadi Ahmad Aloul, Head of Computer Science and Engineering; and Dr. Imran Zaulkernan, Associate Professor of Computer Science and Engineering.
"Top reasons for deadly car accidents include reckless drivers swerving and speeding. These two issues are covered in this new device and thus would serve to lower the rate of accidents in the UAE and globally. This device is a simple yet effective and cheap solution and can make an enormous difference for drivers," Dr. Aloul said.
Dr. Zaulkernan also added, "As the age of self-driven vehicles dawns, the next evolution of this system is to allow cars to automatically react to anomalous behaviors of nearby vehicles and hence help prevent accidents."
Saud AlQasimi said, "Car accidents are one of the leading causes of death in the UAE, and our project is aimed mainly to reduce those numbers by warning unaware drivers from road hazards like an over-speeding vehicle, sudden braking, tailgating, and even a swerving vehicle by sending messages between the cars wirelessly. Our project is meant to be installed in all vehicles as a standard safety mechanism, which is why we made sure to keep it inexpensive and universal to most cars nowadays."
There are several components to the device and includes it being connecting to the car's dashboard to gain data of speed, brakes, engine reading and so on. Once it is read, the device communicates with other surrounding devices through Zigbee, which is a high-level communication protocol used to create personal area networks with small, low-power digital radios, without the need to connect to the internet. Hence, each device connects to the others cars equipped with a similar device through Zigbee devices, thus sharing data. The anonymity of the drivers and their plate numbers remain secure with only the location and driving behaviour being shared.