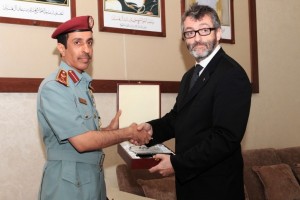 Law enforcement authorities in the UAE in April conducted the largest single seizure of counterfeit HP products to date, the vendor said this week.
HP said that its own investigation led to the raids, which resulted in the confiscation of more than 1 million fake printer cartridges and components.
During simultaneous raids on five premises across Ajman and Dubai in April, officials confiscated around 150,000 laser print cartridges, 100,000 fake cartridge boxes, nearly 50,000 security labels and over 750,000 empty print cartridges, HP said.
David Cooper, Director, Global Anti-Counterfeiting Programme, HP, said that the raids represented a "significant blow against the production and distribution of illicit printing supplies by criminal organisations in the Middle East".
"It is encouraging to see that our support led directly to the largest seizure of fake items since we began the anti-counterfeiting programme in 2006," Cooper added.
Rami Kamel, a representative for the Ajman Police Unit, said that it was important to quell the rise of counterfeit products, which, he said, often do more harm than good.
"If they work at all, counterfeit cartridges provide poor results and may damage your printer, leading to costly repairs or replacements," he said.
HP added that these recent raids also provided valuable insight into counterfeiting networks. This will help to further ongoing investigations, which will, HP said, "protect honest traders and their customers".
Across the EMEA region, HP has over the last four years conducted nearly 1,000 investigations, resulting in over 800 enforcement actions. Over this period of time, nearly 9 million units of counterfeit products and components have been seized, HP said.