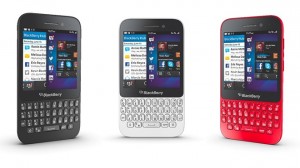 The first customers in the world to get their hands on the upcoming BlackBerry Q5 will be those residing in the UAE, BlackBerry announced on Wednesday.
The latest smartphone to sport the BlackBerry 10 operating system will be unveiled on Wednesday at the new BlackBerry store in Dubai Mall, and will retail at Dh1,499 (around $408), BlackBerry said.
BlackBerry added that a limited number of Q5s will be available for early sale on Thursday, when the store officially opens to customers.
Customers who miss out on the initial run will be able to pre-order their Q5s at the new store. Or else they can wait until next month, when the device will be widely available across retailers in the Middle East, BlackBerry said.
The new device features a QWERTY keyboard, and is available in red, white and black. Smaller than the recently released Q10, the Q5 sports a 3.1-inch touchscreen and is aimed at the middle segment rather than the flagship segment.