As Dr Dieter Zetsche, the chairman of Mercedes-Benz's parent company Daimler put it this week, "Driving a car is a wonderful thing. But parking it isn't."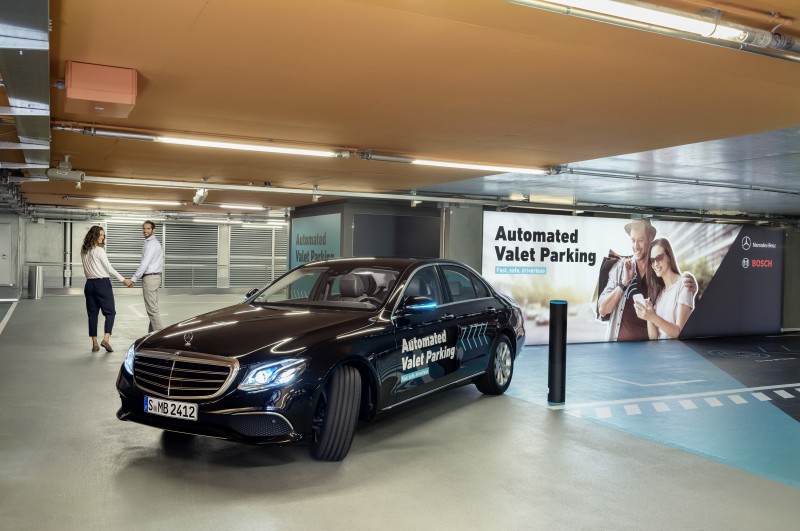 While many UAE drivers are frequently spared the hassle of parking by handing over their keys to the hotel valet, in future even this might not be necessary.
Because Automated Valet Parking (AVP) is on its way.
Daimler has been working on the technology with the German electronics and engineering giant Bosch, which is showcasing its latest Internet of Things (IoT) innovations at its ConnectedWorld 2018 festival in Berlin.
And few new technologies there are causing quite the buzz of AVP. Using it is as simple as its name suggests.
"You leave your car, you press a button on your smartphone or your smartwatch, and it parks fully automatically," said Manuel Maier, a senior project manager at Bosch for Connected Parking Services.
Drivers will not have long to wait to use this technology, with Bosch saying the launch, with Mercedes-Benz, is due later this year.
Its implementation requires the car park to be connected to the cloud to enable communication with the vehicle. Sensors and cameras are also needed in the parking lot. This technology can be retrofitted to existing facilities.
"We realise this intelligent infrastructure," said Gerrit Quast, a senior manager in Bosch's Project Connected Parking.
Car parks are not just the domain of cars, but people as well, including children who may run around unpredictably, so if any person is nearby, the car will come to a halt.
"You need to make sure the car [too] is fully equipped with sensors. With a simple push of a button, the infrastructure registers the car and makes sure no one is around the drop-off area," added Quast.
Cars must also have steering assistance and an electric parking brake, and the aim is to make AVP available for both manual and automatic transmission vehicles.
In requiring both the vehicle and the car park to be fitted with specific technology, AVP has much in common with other connected mobility innovations, being based on an "ecosystem" approach.
When the driver needs the car again, a simple push of a button calls it back.
"It's working now; we're not doing it just to demonstrate it," said Dr Bernd Heinrichs, chief digital offer at Bosch Smart Mobility Solutions.
"We're working with Daimler on scaling it up and debating about how to bring it into the market. We got a lot of requests from other [car brands] to work with them on the same topic.
"We are ready. Is the market ready? We need to see … The Middle Eastern and Asian market is key for us to address … We see that demand. Dubai city and others are asking for it."
An advantage of AVP is that, because there is no need for space to be left between cars so that people can get in and out, one-fifth more vehicles can be squeezed into a given area. So it's not just about eliminating the inconvenience of parking.