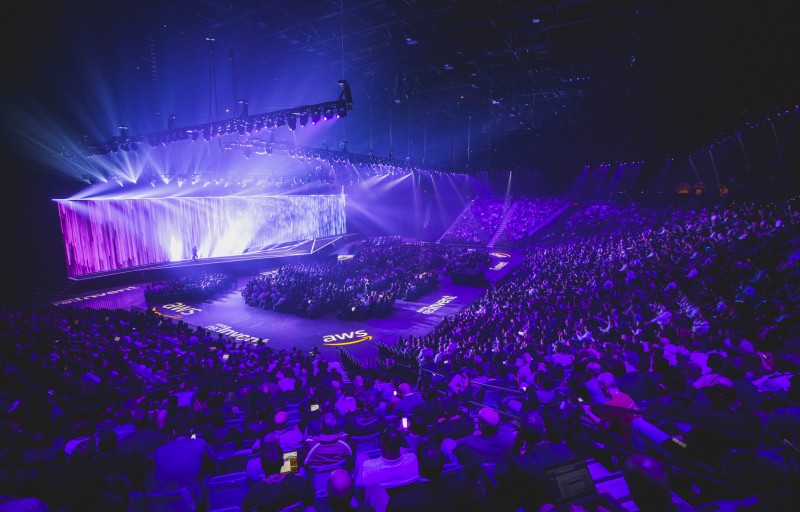 During the AWS re:Invent Midnight Madness kick-off event, Amazon Web Services, (AWS), an Amazon.com company, has announced Amazon Sumerian, a new service that makes it easy for any developer to build Virtual Reality (VR), Augmented Reality (AR), and 3D applications, and run them on mobile devices, head-mounted displays, digital signage, or web browsers.
With Amazon Sumerian's editor, the firm said developers can build realistic virtual environments, populate them with 3D objects and animated characters, and script how they interact with each other and the application's users. VR and AR apps created in Amazon Sumerian will run in any browser that supports WebGL or WebVR graphics rendering, including Daydream, HTC Vive, Oculus Rift, and iOS mobile devices. Getting started with Amazon Sumerian is as simple as logging into the AWS Management Console, according to the firm.
There is no software to install or upfront costs—customers pay only for the storage used for 3D assets and the volume of traffic generated to access the virtual scenes they create.
"Customers across industries see the potential of VR and AR technologies for a wide range of uses—from educating and training employees to creating new customer experiences. But, customers are daunted and overwhelmed by the up-front investment in specialised skills and tools required to even get started building a VR or AR application," said Marco Argenti, vice president, Technology, AWS. "With Amazon Sumerian, it is now possible for any developer to create a realistic, interactive VR or AR application in a few hours."
With Amazon Sumerian, developers can:
Design immersive VR, AR, and 3D environments – Amazon Sumerian's easy to use editor allows developers to drag and drop 3D objects (e.g. furniture, buildings, and natural objects) and characters into "scenes" (e.g. rooms, office environments, and landscapes). Developers can choose from Amazon Sumerian's library of pre-built objects, download and import objects from third-party asset repositories such as Sketchfab or Turbosquid, or create and import their own objects. Amazon Sumerian also includes templates with pre-populated scenes.
Easily create animated characters powered by AWS AI services – Developers can also use Amazon Sumerian to create animated 3D characters that can guide users through a scene by narrating scripts or answering questions. Amazon Sumerian is integrated with Amazon Lex and Amazon Polly, which provide automatic speech recognition (ASR), natural language understanding (NLU), and text-to-speech capabilities, so that Amazon Sumerian characters can understand and respond to users in lifelike conversations.
Deploy applications to popular VR and AR hardware – Amazon Sumerian scenes run in any browser that supports WebGL or WebVR graphics rendering. Amazon Sumerian scenes are hosted in the AWS cloud and served from a publicly accessible endpoint, so that users can access them from anywhere.
AWS has also grown significantly in the Middle East region and has opened offices in Dubai and Manama earlier in the year. The firm has also announced plans to open a data centre in the Middle East by early 2019, along with an Edge Network Location in the UAE in the first quarter of 2018