Abu Dhabi, UAE – 10 February 2021: Bespin Global is setting up its regional headquarters and two innovation centres in Abu Dhabi to accelerate digital transformation from the UAE capital. The Abu Dhabi Investment Office (ADIO) and Bespin Global today announced a partnership that will see the South Korean company receive financial and non-financial incentives from ADIO to establish in Hub71, Abu Dhabi's global tech ecosystem. The partnership is part of ADIO's AED 2 billion Innovation Programme, an initiative of the Abu Dhabi government's Ghadan 21 accelerator programme.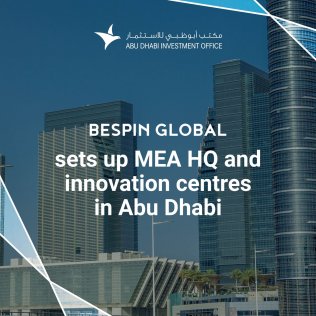 Bespin Global was established in South Korea in 2015 and operates today with cloud consultants around the world. It provides end-to-end cloud services, cloud strategy, migration, implementation, DevOps and Big Data and has been listed on Gartner's Quadrant Magic for Public Cloud infrastructure for four years in a row.
ADIO's support for technology-driven companies is part of Abu Dhabi's commitment to fostering innovative ideas and solutions that are regionally relevant and globally exportable. From the Advanced Technology Research Council's efforts in promoting transformative technologies, to investments from Mubadala and ADQ in knowledge-based industries, the emirate has cultivated a collaborative community that is accelerating breakthroughs. ADIO's partnership with Bespin Global provides a further boost to Abu Dhabi's position as a regional innovation hub.
H.E. Dr. Tariq Bin Hendi, Director General of ADIO, said: "Abu Dhabi is focused on championing constructive disruption. We are turning the status quo on its head with the purpose of promoting innovation, spurring solutions and creating long-term success for all. ADIO is committed to driving the future of innovation in the region and we are excited to support Bespin Global as we work together to pave the way for large-scale digital transformation from Abu Dhabi".
Under the partnership, Bespin Global will establish its MEA headquarters and build two innovation centres – a Cloud Operations Centre and a Technology Hub for its cloud experts – in Abu Dhabi to help drive advancements in technology and digital transformation. Bespin Global will grow its commercial and technical team as it taps into new areas such as Financial Services and FinTech.
Mouteih Chaghlil, CEO of Middle East & Africa – Bespin Global, said: "This strategic partnership between Bespin Global and ADIO ensures we have the support and enablement to grow our Middle East presence. We have shared goals to grow digital offerings and help enterprises leverage the full power of cloud. To do that we need to hire and train the best talent and provide them with the best place to live, where they not only perform their job, but also contribute in Abu Dhabi's vision to become a regional innovation hub and help the UAE progress on the global competitiveness index".
Bespin Global will collaborate with local universities to nurture talent, with plans to hire 5-10 Emirati interns each year, in addition to hosting hackathon programmes. ADIO, along with Hub71, will support Bespin Global's expansion by connecting the technology company across Abu Dhabi's innovation ecosystem, unlocking access to relevant partnerships, opportunities and networks to fuel its growth.
Chaghlil continued: "Abu Dhabi's central position on the world map, paired with its involvement in a variety of crucial industries including Financial Services, Energy and Communication, makes it a sought-after business hub, internationally. This aligns with Bespin Global's mission to make superior and cutting-edge cloud technology services more accessible across the Middle East and Africa. I'm confident that this powerful partnership will benefit the country, and region at large".
Bespin Global has chosen Hub71 for its Abu Dhabi location. The fast-growing tech community supports the growth of global tech startups with market access, opportunities to raise capital and access to a deep pool of tech talent through its robust partnerships with corporates and government entities, helping to advance technology and digital transformation.
Hanan Harhara Al Yafei, CEO of Hub71, said: "We are excited to welcome Bespin Global into our fast-growing community as their regional presence will complement the bright founders who are accelerating Abu Dhabi's digital transformation. Technology companies like Bespin Global enhance our ecosystem and add to the seamless, mutually-beneficial exchange of mentorship, expertise and talent that facilitates the disruptive technologies shaping our future economy".