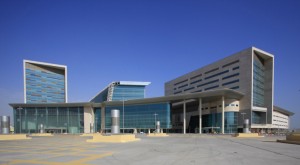 Brand-Rex will supply an extensive and substantial structured cabling system for Hamad Medical City (HMC), the main provider of healthcare in Qatar and the largest on-going government project for data communications.
The project, which was won by Brand-Rex partner Consolidated Gulf Co. (CGC), will connect a women's hospital, a physical medical and rehab facility, an ambulatory building, and the Translational Research Institute building.
It will provide the entire structured cabling system for a multi-function network in a new medical facility. Using Brand-Rex products, CGC will install, test and commission a range of network services for telephone, data, TV, CCTV and access control.
Other areas will be provided with additional network services including video surveillance, building automation, and a fire alarm system.
The advanced network will be made up of Brand-Rex 10GPlus Augmented Category 6 U/FTP, tight buffered premise distribution multimode and single-mode fibre, and single-mode steel tape armoured multi loose tube fibre optic cables.
Fibre connectivity will exist between the Central Energy Plant (CEP) and each building, where a fibre backbone will be installed from the main distribution frame (MDF) to an independent distribution frame (IDF) on each floor. In turn, each IDF will use CAT 6A U/FTP to connect over 20,000 access points.
A wide variety of Brand-Rex Optical Cable types will be deployed, including 4, 6, 12 and 24 core single-mode, 4 and 8 core multimode, and a 10GPlus Augmented Category 6 U/FTP cabling system.  42U Cabinets will be installed into which the 10GPlus cables will be terminated using the unique V12 Angled Patch panel, while fibre cables will terminate using preloaded fibre patch panel.
"Hamad Medical City requires a highly resilient and robust cabling infrastructure for a wide range of essential services. The critical need of a hospital made the selection process thorough and stringent, including proof of capability, and detailed technical data," said Alaa Habanjar, country manager at Brand-Rex.