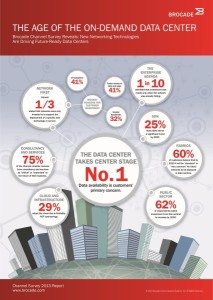 Brocade has released survey results which show that their customer's primary network-specific concern is 'data centre availability' driven by virtualisation and mobility, as opposed to 'network-complexity'.
Of the 350 global resellers and systems integrators who were asked, 40 percent of respondents said data centre availability was their top priority.
Despite the fact that legacy enterprise networks are not "fit for purpose," and a significant number experience multiple outages every week, there still seems to be an 'unwillingness' to invest in upgrades.
62 percent of the channel believes that budget constraints are having a "significant impact" on customers' ability to invest in technology, with 63 percent seeing vendor financing as "vital" or "more important" over the next few years.
Almost a third of the channel stated that their customers only invested in networks when they want to adopt a new technology and their current network cannot support the deployment of the specific new application or service.
More than one in 10 admitted that investment was made only when the network was already failing. However that trend is slowly changing. The survey identified that the five top drivers of network investment are the desire to adopt virtualisation (41 percent); demand for faster access to data and applications (41 percent); demand for greater bandwidth (32 percent); the need to support increasing data volumes (25 percent); and the need to support mobility (24 percent).
Khaled Kamel, territory channel manager, MENA, Brocade, said, "Customers have now realised that they need to be more proactive when it comes to modernising their network infrastructure rather than their current reactive mode. As they look to adopt virtualisation, software-defined networking, BYOD culture and meet the needs of more demanding users, it is imperative for them to deploy an on-demand, highly flexible and robust network infrastructure.
"They will be looking to the channel as strategic advisors. It is clear from the survey that Ethernet fabric based data center architectures will be the de-facto standard in the future and those partners who can assist customers in their journey to fabrics will undoubtedly have a huge competitive advantage."
Channel businesses expect wide scale adoption of fabric networks by 2020, with over a fifth claiming it will be the "standard/norm" for data centers to be built on fabric networks, and almost half saying it will be "very common" to have fabric networks deployed in the data centre by then.