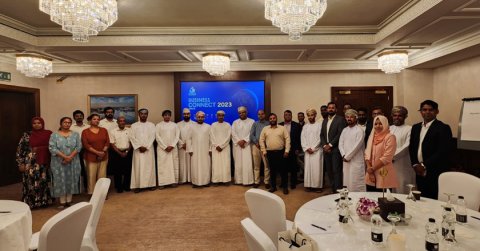 Supreme Systems, a part of Syscom Group is thrilled to announce the resounding success of its recent end-user event, Business Connect 2023, Oman.
The event, which took place on 18th September, at Al Bustan Palace, a Ritz-Carlton Hotel, brought together industry experts, decision-makers, and business entities to foster connections, exchange insights, and drive business growth in the Sultanate of Oman.
The end-user event, a testament to its mission in facilitating meaningful interactions within the local business ecosystem, saw remarkable achievements in terms of engagement, knowledge dissemination, and networking opportunities.
Event Highlights:
Diverse Attendee Base: Business Connect Oman, attracted a diverse and influential group of participants, ranging from established enterprises to start-ups and government representatives. This diverse mix created a dynamic environment for cross-industry collaboration and idea exchange as well as aided Supreme Systems to reach into diverse industries.
Knowledge Exchange: The event featured a series of thought-provoking keynote presentations, from vendors like Avaya and Allied Telesis. Prominent industry experts shared valuable insights on topics such as digital transformation, sustainable business practices, innovation strategies, and unified communications solutions providing attendees with actionable takeaways.
The event agenda began with a corporate overview of Supreme Systems, a presentation on communication solutions offered by Avaya, sharing the latest insights and updates of the products.
Mr. Shahnawaz Siddiqui, Regional Sales Manager – MEA, Allied Telesis presented Networking Solutions by Allied Telesis. The attendees got the chance to know more about the brand, the product portfolio and how efficiently they can be deployed for varied business needs.
Networking Success: Attendees had the chance to connect with peers and vendor personal fostering relationships that are expected to drive business growth in the months to come.
Exhibition Showcase: The products of Allied Telesis and Avaya were exhibited at the event venue, for the attendees to have a first-hand look of the products and get to know them in real time.
Mr. Hamid Ansari, the Managing Director of Supreme Systems, expressed his gratitude for the overwhelming support and participation from the Omani business community. He stated, "We are delighted by the tremendous success of this event and the positive impact it has had on our business community. We look forward to host more events in the future to connect and drive business opportunities in the region".