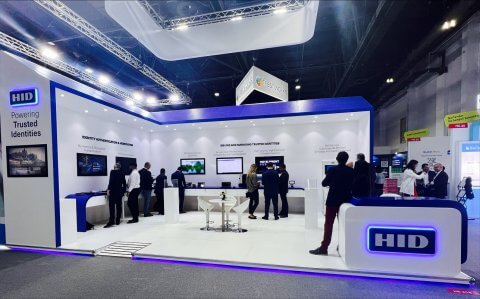 HID recently announced it will showcase its latest innovations in secure identity issuance and identity management at GITEX Global 2023 under the theme, "Secure, Sustainable, Future-proof Solutions".
Between 16 and 20 October, from Hall 5, Stand A15, at the Dubai World Trade Centre, HID will demonstrate to GITEX delegates how the company has come to power the trusted identities of the world's people, places, and things.
Secure
HID will showcase HID FARGO Connect — the industry's first cloud-native card issuance platform — paired with card printing innovations such as the HID FARGO HDP6600 retransfer card printer and the DTC1500 direct-to-card printer — to demonstrate how the solution simplifies card issuance while increasing security.
The company will also introduce its HID ELEMENT UV Ink Printer and Laser Engraver card personalisation solutions — specifically designed to meet the high-volume and high-security requirements of large organizations such as government entities and financial institutions.
Additionally, company experts will explain how HID PIAM (physical identity and access management) solutions reduce the costs and risks associated with onboarding, badging, visitor management, access management and compliance.
Sustainable
Through exhibited products, HID will demonstrate its dedication to developing more sustainable solutions and how product lifecycle and environmental impact considerations are central to the design of every HID solution — many of which are GreenCircle Certified for their energy-saving and other eco-friendly attributes.
Future-proof
With the proliferation of mobile devices ever on the rise, HID will demonstrate how its cloud solutions provide new ways to manage identities and support new form factors such as smartphones and wearables — thus inherently future-proofing ID issuance and management for years to come.
"Security and sustainability are in our DNA", said Andrew Munnik, Segment Director, MEA, HID. "As we unveil our latest innovations at GITEX Global 2023, HID will demonstrate how we continue to lead the way in providing secure, sustainable and future-proof solutions — ensuring today's security and technology professionals have the tools they need to create safer and more eco-friendly work environments both now and as the world moves toward a more digital future".
Stay Connected with HID
Visit our Media Centre, read our Industry Blog, and follow us on Facebook, LinkedIn and Twitter.