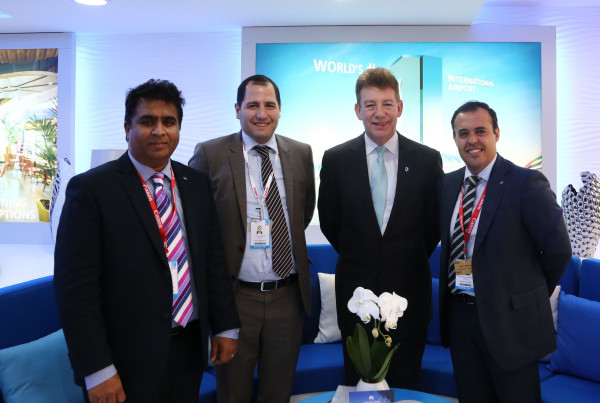 Canon Emirates has signed an agreement with Dubai Airports to serve as the Official ICT Print Provider for three editions of the Dubai Airshow from 2015 to 2019.
At Dubai Airshow 2015, Canon Emirates offered the entire array of MPS services through a dedicated business centre that offered end-to-end solutions, from small to large format printing, to the nearly 1,100 exhibitors that took part in the global event as well as visitors. More than 120 Canon devices were deployed to meet the back office requirements and were stationed across the exhibition area to ensure smooth operations and meet print requirements
Shadi Bakhour, General Manager, Canon Emirates, said, "The aim of Canon Emirates is to go in the direction of the vision of His Highness Sheikh Mohammed bin Rashid Al Maktoum, Vice-President and Prime Minister of the UAE to transform Dubai in to a 'Smart City' offering state-of-the-art 'Smart Solutions' like Print on Demand, uniFLOW Output management solutions & Mobile printing."
At Dubai Airshow 2015, Canon Emirates also exhibited its state-of-the-art applications created on Canon Large Format Printers and Arizona showcasing its flexibility to print on surfaces like wood, metal, acrylic, and other media. This gallery attracted thousands of visitors, who were treated to a compelling exhibition of artworks and photographs on 'The Past and Future of Dubai.' The high quality prints also demonstrated the cutting edge quality that Canon products deliver.
Sepideh Zahedy, Manager Advertising, Sponsorship, Communications and Business Development, Dubai Airports Company, said, "I‎ would like to thank Canon for being a partner with us at the Airshow 2015. The timely delivery of the products and services that they provided during the show were very efficient and we received great feedback from the various stake holders. The 'Canon gallery' was tasteful and impactful while the well-designed Canon Business Centre added value to the services at the exhibition hall. I look forward to partnering with Canon again in 2017."