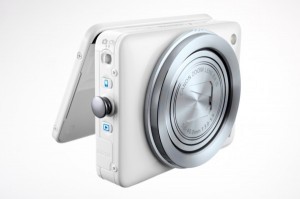 Canon Middle East on Sunday unveiled the PowerShot N, which, the firm claims, is a new type of camera with a different approach to capturing images.
Highlights of the PowerShot N include an unconventional square design, an innovative zoom function, shoot operation lens rings and a tilting touch screen.
The camera has also been designed with image sharing in mind, and features Wi-Fi connectivity so that images and videos can be shared almost instantly.
Meanwhile, a new Creative Shot mode automatically generates a selection of creative treatments for every shot. Canon claims that the camera will analyse the scene and determine what could enhance the scene or offer a different creative angle.
Variables including composition, exposure, point of focus, white balance, gradation and contrast are considered before five alternative versions of the original shot are generated. They can then be shared at the touch of a button.
Of course, creative modes such as Miniature Effect, Soft Focus, Toy Camera Effect and Monochrome are also available.
The N also features a nifty new Hybrid Auto mode, which records the four seconds before every shot in 720p resolution, before using Canon's Smart Auto technology to determine the best settings to capture the perfect shot. At the end of each day, the four-second clips are merged into one to create a "behind the scenes" story of the day's images. Canon claims this will add new contexts to an online album.
Other video functions include the ability to record in slow motion, using the Super Slow Motion Movie Mode. Full HD video recording is supported, as is stereo sound.
The new design has got people talking, particularly with the tilting touch screen and the lens rings. The twist lens ring can be turned in either direction to operate the zoom function, while a second ring is used as the shutter release. This allows the camera to be used any way up. The lens itself is a 28-millimetre, 8x optical zoom unit.
In terms of the sensor, the N comes with a 12.1-megapixel CMOS sensor and an advanced DIGIC 5 image processor. The HS System supports a maximum ISO of 6,400.
The touchscreen features controls for essential functions, such as focus or shutter. If Canon's previous compact cameras are anything to go by, the user interface should feel perfectly intuitive.
The N will be available in either white or black.