The self-driving 'flying taxi' – that was tested in Dubai last year in the presence of His Highness Sheikh Hamdan bin Mohammed bin Rashid Al Maktoum – was showcased at the Consumer Electronics Show (CES) last week in Las Vegas.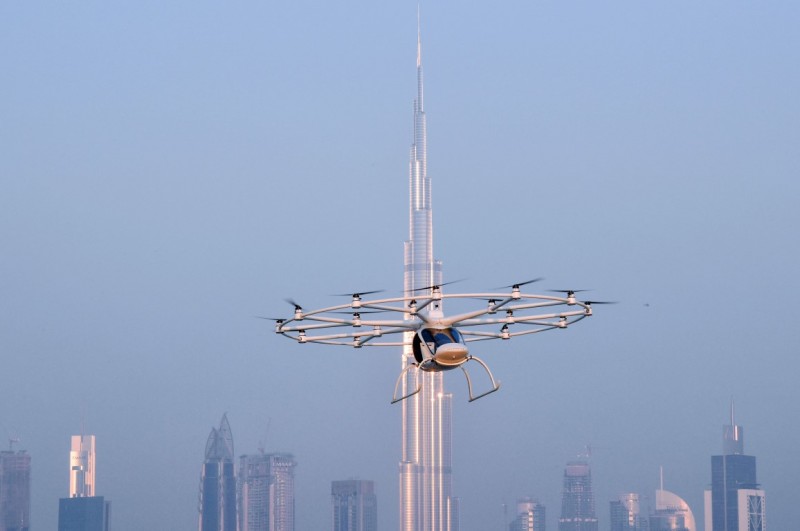 The autonomous aerial taxi (AAT) will be the world's first self-flying taxi service, and is expected be operational in the emirate under Dubai's Road and Transport Authority (RTA) within the next five years.
On Wednesday, the vehicle was briefly flown at CES 2018 during a keynote address by Intel, which has partnered with VOLOCOPTER, a Germany-based specialist manufacturer of autonomous air vehicles.
The two-seater vehicle, capable of transporting people without human intervention or a pilot, was tested near the Jumeirah Beach Park in September last year.
Sheikh Hamdan noted at the time of the trial that the key to top the global competitiveness rankings was to adopt advanced innovative technologies and applications that would help enhance services for the community. A recent report from the World Economic Forum has actually ranked the UAE among the top 20 countries worldwide for its performance in adopting future technologies and innovation.
"Encouraging innovation and adopting the latest technologies contribute not only to the country's development but also help build bridges to the future," added His Highness.
Prior to the test of the AAT, VOLOCOPTER and the RTA launched a one-person autonomous aerial vehicle (AAV) at the World Government Summit in Dubai last year. It was initially claimed back in February that the authority would be "making every effort" to begin the operation of the AAVs in July 2017, but it appears that this target was too ambitious.
Instead, it seems the RTA is now concentrating on ensuring that all operational models are completed, such as the installation of landing platforms throughout Dubai, while also ensuring vehicles are fully compliant with safety regulations before they take flight.
"The technology to support this strategy – covering all autonomous modes of transport – is not yet available, but I have no doubt that it will be in 5-10 years," said Ahmed Hashem Bahrozyan, CEO of the RTA's Licensing Agency, who is heading the self-driving project. "Ultimately, autonomous transport will happen, as billions of dollars have been invested in this technology. It's not about how optimistic or pessimistic you are – what's important is how realistic you are."
The RTA is currently working in close cooperation with VOLOCOPTER and the Dubai Civil Aviation Authority (DCAA) to establish safety procedures for the use of these aerial vehicles.