CNME Editor Mark Forker spoke to Madhav Sheth, Vice President of realme and President of realme International Business group, to find out how the fastest growing smartphone manufacturer in the world is planning to scale and expand its operations across the Middle East – and what devices it was showcasing at Mobile World Congress in Barcelona earlier this month.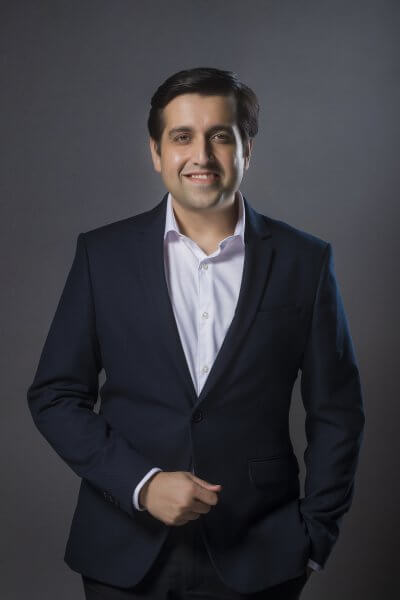 There has been a lot of increased focused and media attention on realme since it became the fastest brand in the world to ship 100 million smartphones. What is it about your devices that have struck such a chord with so many users globally? 
The success of our GT series and realme Number series both played significant roles contributing to our global fast growth. The high reputation that realme GT received from 2021, implied that users are happy to have more options in high-end market, even a better option which offers more tech features users expect, like world's first 2K AMOLED flat display, and world's first 150° ultra-wide camera.
When realme GT 2 series first launched in China, many users and media acknowledged that GT 2 is truly a "revolutionist in the flagship smartphone segment", while putting forth realme to be the only young spirited brand to venture in the high-end smartphone market. We see similar comments from Europe as well.
Without doubt, realme GT series success told us that users are the biggest beneficiary when more competitions emerge on high-end market. Users are also keen on outstanding design and different materials like paper that generates eco-friendly effect while using smartphones. To match users' expectation, realme will bring more models featuring advanced performance, fashionable design, and innovative technology.
Another product line that hit a chord with global users is realme Number series, which had become one of the most successful series globally from the past three years.
According to research company SA's report, realme Number series has reached 40 million units totally, entering top ten best-selling smartphone series in the world. We believed that make tech more accessible, camera innovation, and trendsetting design are the reasons that more users choose realme Number series.
Can you tell us what your target market demographic is – and do you position yourselves as a brand designed for millennials? 
In societies around the globe, our brand sees a spirit to continuously challenge oneself, to reject conformity and the traditional expectations of "being great", but rather to give one's own definition of it and go outside of expectations set by others. "Dare to Leap" is our brand spirit that resonates with users worldwide.
Our brand communicates to everyone who welcomes this belief, so we don't consider the brand to be only for the young people, since age doesn't matter here, what matters is the attitude inside, that is having a youthful heart and open mindset.
Can you reveal more about some of the new products that you will be showcasing at Mobile World Congress in Barcelona later this month? 
We will showcase and launch two smartphone models at MWC, GT 2 and GT 2 Pro. GT 2 series is our most premium flagship ever, which aims to bring leap forward technologies accessible to tech lovers worldwide, as the mission of GT series is the next-gen flagship to redefine how the flagship should be. After debuting in Europe at MWC, this premium flagship will arrive to India, Middle East, Southeast Asia and Latin America soon.
To demonstrate what we mean by next-gen flagship, here are some specs of our GT 2 Pro. GT 2 Pro features latest snapdragon 8 Gen 1 processor, world's first 2K AMOLED flat display, and world's first 150 ° ultra-wide camera. With these equipped, the users can expect to have a distinctive and smooth experience on photography, game playing, video streaming. Moreover, the users will be given a special eco-friendly option with an unprecedented bio-based polymer design.
We also have a new charging architecture that we will launch and showcase at MWC. It will be world's first 100W-200W smart devices charging architecture, which consists of three technological advancements, including speed, safety, and battery life. We named the architecture UDCA, which stands for UltraDart Charging Architecture.
What makes it different from the charging technology of other brands is that in the past, 150W/200W fast charging technology was just a concept for all smartphone brands, and no one applied this tech to the actual model, whereas this time, the coming realme Neo 3 will be the first smartphone that equips the 150W fast charging technology.
We live in the 'experience economy' – and we know that if companies don't deliver good experiences, then they will lose customers. How do you ensure that your devices and products deliver the experiences that your end-users desire? 
This is actually a question that we ask ourselves every day. In realme, every employee is a user, that means our employees are the first batch of users of our devices, they can sign up for beta-test phase, and give feedback on anything that they find unpleasant, our engineer team will solve the issue instead of rush to market.
Also, in the internet era, early adopters can send their feedback to us in a very timely-manner, when we launch to market, we follow closely the word-of-mouth from our fans, and make improvements based on their feedback. Finally, our sales team strives to ensure our customer satisfaction from end-to-end, a part of that process is the user experience of our products.
During the design phase of GT series, because we want to exceed our user expectations, so we asked ourselves the question: how do we make a product which is environmentally friendly, aesthetically pleasing, and durable? In answer to this, we adopted an unprecedented bio-based polymer design, which creates 35.5% less carbon emissions and a laser engraving replicating the pattern of paper-based products, which you'll be able to touch and feel the product in MWC.
As we mentioned above realme has enjoyed phenomenal success since its inception – and is the No.5 smartphone brand in Europe. However, how do you plan on capturing more of that market share in Europe, what is your presence like in the Middle East – and what globally is your biggest market? 
As you probably already know that in 2021, realme became the 6th fastest-growing smartphone brand in the world. We accumulated more than 100 million users, and sold 60 million units in 2021 alone, which shows 50% YoY growth from 2020. According to research company Canalys in 2021 Q4, realme is ranked TOP 5 smartphone vendors in 30 global markets.
The similar rapid growth path also emerged in UAE. Based on Canalys report, realme was ranked in Top 4 smartphone brand in Q4 2021 with 858% growth. Our goal is to to become top 5 in Middle East this year, and to rank 3rd by 2023. With advanced performance, trendy design, and innovative technology, GT 2 series and realme 9 Pro series are products that we believe to fit the desire of the Middle East consumers. This year, we will also bring many featured models to KSA market.
As for growth in Europe, we will invest more in brand awareness and local sales force of GT 2 series. Europe is an important market for our high-end products, as it is our strategy to complete full price range product development.
The sales volume of realme X and GT series, both realme's flagship product portfolio, in 2021 reached 5 million units in 2021 and we expect it to be doubled in 2022 with the joining of GT 2 Series.
Another strategy in Europe is to develop our lifestyle products through the "1+5+T Strategy". 1 refers to the core product, the smartphone, 5 signifies five major categories: TWS, wearables, TVs, pads and laptops, which are the most frequently used devices. T stands for other products under realme's AIoT brand realme TechLife®.
We are going all out to transform realme from a pure smartphone player into a robust AIoT ecosystem platform. Europe is a vital market for us to accomplish this goal.