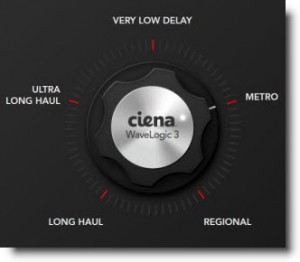 Network specialist Ciena Corporation today announced WaveLogic 3, the industry's first software-programmable coherent technology that scales to 400 Gb/s.
Ciena said the new generation of its family of silicon chips, called WaveLogic 3, will enable service providers to accelerate the move to dynamic, software-defined Terabit networking while improving network economics.
It added that WaveLogic-powered networks can be programmed to quickly respond and adapt to changing requirements for capacity, reach and latency, whilst also making the optical layer more intelligent and responsive to application needs.
"As the leading provider of coherent optical technology worldwide, we have years of real-world experience providing us an intimate view of today's 100G networks in operation. We know what works and have taken these learnings and combined them with the feedback from our customers as to how our coherent technology should be improved to deliver even greater speed, capacity, flexibility and reach," said Steve Alexander, senior VP and CTO at Ciena.
"With WaveLogic 3, we are changing the game in optical networking by offering a programmable, coherent optical solution that reflects this knowledge, and builds on it to offer unprecedented levels of network intelligence and capacity. Ciena's latest enhancements to WaveLogic 3 will equip service providers to scale their networks to meet the intense bandwidth requirements of cloud computing and other data-intensive applications, remotely, with a network that is easily programmed to scale across metropolitan areas, continents or oceans offering huge cost savings and competitive advantage," he added.
WaveLogic 3 can carry multiple 100G payloads in metro and regional environments, doubling the capacity of current 100G networks. Using sophisticated transmitter processing, it can also deliver up to 30 percent capacity improvements in new flexible grid environments, providing customers with an efficient migration path to Terabit networking.
Ciena claimed its WaveLogic 3, which will be deployed in the second half of 2012, has the capacity and reach for a single chipset to carry live Skype video chats from every household in San Francisco all the way to Tokyo, simultaneously.