Information technology innovation and transformation leaders, today, gathered for Tahawul Tech and CNME's fourth annual CIO 100 Awards and Forum.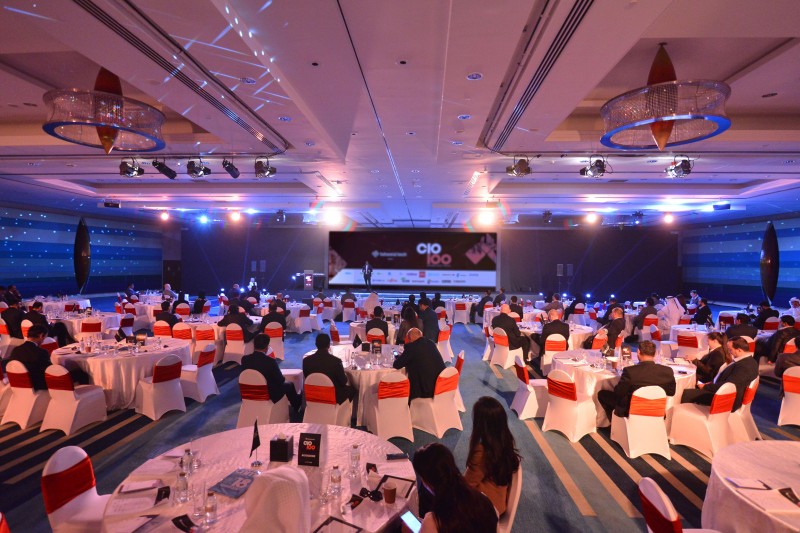 Held at the Jumeirah Beach Hotel, CIO 100 Awards 2018 honoured 100 individuals who have demonstrated excellence and achievement in shaping the regional IT landscape.
As IT becomes the driver of digital change in the Middle East, the region's chief information officers have the opportunity to put themselves at the core of business decision-making. CIO 100 Awards placed the spotlight on those IT leaders who are making significant leaps in the race to digitise business.
The CNME editorial team chose an elite group of IT leaders, from a pool of over 350 nominations, who are constantly striving for innovative practices and transforming their organisations to stay ahead of the curve.
The awards' proper was preceded by a forum which featured keynote presentations from CIOs who have shared insights on the evolving IT industry and how the latest technologies can transform businesses today. It featured presentations from Mubarik Hussain, Head of IT, Petroserv; Ashith Piriyattiah, Group Head- Information Technology, Al Masah Capital; and Kumar Prasoon, CIO, Safeer Group.
Here's the full list of winners:
| | |
| --- | --- |
| Akshay Lamba | Deloitte Middle East |
| Faisal Ali | Deyaar |
| Abdalla Al Ali | DMCC |
| Terence Sathyanarayan | Drake & Scull |
| Nikolaos Sfikas | National Bank of Kuwait |
| Saeed Al Ghailani | Department of Transport, Abu Dhabi |
| Buthaina Hamad Bin Fahad | Dubai Airport Free Zone Authority |
| Moza Ibrahim Al Akraf | Dubai Electricity & Water Authority |
| Sivakumar V | Dubai First |
| Neil Menezes | Dubai Holding |
| Shanu Ammunni | Abjar Hotels |
| Sreedhar Reddy | Aldar Properties |
| Ahmad Abdulsamad Alhammadi | Abu Dhabi Municipality |
| Saeed Al Kuwaiti | Abu Dhabi Police |
| Dr. Jamal Nazzal Al-Karaki | Abu Dhabi Polytechnic |
| Alexander Raiff | ADCB |
| Fuad Al-Ansari | ADNOC Refining |
| A Raheem | AG Melco |
| Abdul Rahman Jaroudi | Ajman Bank |
| Ashith Piriyattiath | Al Masah capital |
| Mario Foster | Al Naboodah Group Enterprises |
| Dr. Kumar Prasoon | Al Safeer Group |
| Ahmed Askar | Al Sahraa |
| MN Chaturvedi | Al Shirawi |
| Frank Watts | Al Tayer Group |
| Fayaz Ahamed Badubhai | Al Yousuf |
| Girish Varote | Al Zahra Hospital |
| Maisam Zaidi | ALEC |
| Herbert Fuchs | ASGC |
| Mukta Arora | Aster DM Healthcare |
| Manoj Vijayan | Aswaaq |
| Anthony Lynsdale | Atlantis, The Palm |
| Justin S. Thiraviyam | Avivo Group |
| Sebastian Samuel | AW Rostamani |
| Khalid Jalal | GARMCO |
| Akram Assaf | Bayt.com |
| Ali Ghunaim | Canadian Specialist Hospital |
| Harvin Stanley | Cheil MENA |
| Gareth Sherlock | Cleveland Clinic Abu Dhabi |
| Ali Mohamed Al Ali | Department of Health, Abu Dhabi |
| Venkatesh Mahadevan | Dubai Investments |
| Ahmed Kajoor | Dubai Municipality |
| Hisham Airan | Dubai Taxi |
| Mohammed Bilal Hasan | Dulsco |
| Farid Farouq | DWTC |
| Hakam Abu-Zarour | Emirates Development Bank |
| Alia Al Hammadi | ENEC |
| Saket Wagh | Enhance Oman |
| Shailesh Mani | Flemingo |
| Mohammed Jameeluddin | General Civil Aviation Authority |
| Vinay Sharma | Gulftainer |
| Mahmoud Kamal | Habtoor Hotels |
| Zohdi El-Saadi | IKK Group |
| Aditya Kaushik | Interserve |
| Mohammed Ahmed Alzaronei | Islamic Affairs & Charitable Activities Department |
| Saji Oommen | Jaidah Group |
| V. Suresh | Jumbo |
| Dr. Mustafa Hassan Qurban | King Fahd Military Complex |
| Shumon Zaman | Lamprell |
| Amit Kanchan | Landmark Hospitality |
| Madhav Rao | Lulu Group |
| Nitin Bhargava | Mashreq Bank |
| Prakash Rao | McDonald's UAE |
| Ajay Rathi | Meraas |
| Anshul Srivastav | Union Insurance |
| Mansour Al Ketbi | Mubadala Investment Company |
| Mohammed Sater | Mumtalakat |
| Ahmed Ebrahim Al Ahmed | Nakheel |
| Rami Al-Haddad | National Aviation Services |
| Arul Jose Vigin | Dispute Resolution Authority |
| Faizal Eledath | National Bank of Oman |
| Ronald D'sa | OSN |
| Mubarik Hussain | Petroserv |
| Aytek Aydogan | Pivot |
| Madhusudhan Sarangi | Port of Fujairah |
| Khamis Awadh Abulani | Rabdan Academy |
| Sanjay Khanna | RAK Bank |
| Mohammad Shahzad | RDK Commercial Investment |
| Dr. Mohammad Khaled Al Hassan | Regulation & Supervision Bureau |
| Rabih Merhy | Rotana Hotels |
| Abdulla Al Bastaki | RTA |
| Hasnain Juzer Ali | Saudi German Hospital |
| Nasir Al Ali | Sharjah Asset Management |
| Sayed Rahman | Sharjah Electricity & Water Authority |
| Saleem Ahmed S | Sharjah Islamic Bank |
| Riyad Salah | Sharjah Taxi |
| Firoj Kumar Rauta | Skyline University College |
| Wisam Daoud | Souq.com |
| Manoj Kulangara Menon | Spotcheck |
| Vignesh Unadkat | Thumbay |
| Ali Saleh Mohamed Al Ali | Thuraya |
| Prabhakar Posam | Transworld |
| Adam Lalani | Tristar |
| Vijay Jain | Truebell |
| Aliasgar Bohari | Zulekha Hospital |