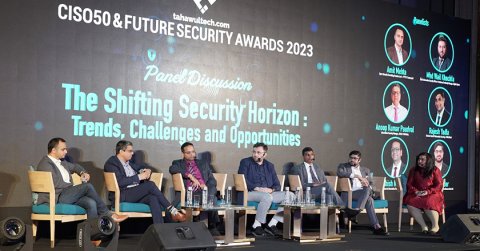 The cybersecurity world came alive last night at the stunning Taj Exotica Resort and Spa, The Palm, as industry leaders and decision makers gathered for the highly anticipated CISO 50 & FSA Awards Gala. Sponsored by Cloud Partner – SolarWinds, Gold Sponsors – Barracuda Networks, LinkShadow, MMA Infosec, Resecurity, StarLink and Silver Sponsor – CyberHub 24/7 CSOC Powered by Finesse, this prestigious event celebrated excellence and innovation in the field of cybersecurity and provided a unique platform for networking, knowledge sharing and recognising outstanding contributions to the industry.
The highlight of the evening was an insightful panel discussion titled "The Shifting Security Horizon: Challenges and Opportunities." Experts from various sectors of the cybersecurity industry engaged in a dynamic conversation, sharing their experiences and insights on the evolving landscape of cybersecurity, particularly in the area of security investments. The panel delved into the latest threats and trends, the role of artificial intelligence and machine learning in cybersecurity, and strategies for staying ahead of cyber adversaries.
The panellists included:
Amit Mehta, Cybersecurity Consulting Practice Lead – EEMEA, Mastercard
Anoop Kumar Paudval, Information Security Manager, Al Nisr Publishing
Ashish Khanna, Global Head of Information Security, Sharaf Group
Mhd Wail Khachfa, Chief Information Security Officer and Business Continuity Manager, Digital Ajman
Rajesh Yadla, Director Head of Information Security, Al Hilal Bank
Waqas Haider, Chief Information Security Officer, HBL Microfinance Bank
Moderated by Anita Joseph, Editor Tahawultech.com and Security Advisor, the engaging discussion shed light on the challenges and opportunities faced by organizations today in the realm of cybersecurity. Attendees left the session with a deeper understanding of the ever-evolving threat landscape and actionable insights to bolster their security strategies.
Another highlight was the announcement of the winners of the CISO 50 & FSA Awards. These awards celebrated individuals and organisations that demonstrated exceptional innovation, leadership, and dedication towards strengthening the cybersecurity ecosystem.
The winners of the CISO 50 & FSA Awards for 2023 are:
CISO 50:
Hamda AlMaazmi-Ministry of Health and Prevention
Ahmed Nabil Mahmoud Abu Dhabi Islamic Bank
Wajahat Hussain- Etihad Airways
Jayesh Nandanan- Mediclinic Middle East
Sunil Kumar Nair- Al Ain University
Rahul Cheruvelly- Emirates Hospitals Group LLC
Padam Kafle- Aster Hospitals
Zahid Syed- Abu Dhabi Ports
Jeevan Badigari-DAMAC Group
Mhd Wail Khachfa-Digital Ajman
Osama Abbas-Emirates Transport
Faisal Mukhtar Khan- Dubai World Trade Centre
Divij Verma- Mashreq Bank
Sunil Kumar Sharma- Aldar Properties
Amit Mehta-Mastercard
Yoonus Changoth- Nesto Group
Hasnain Juzer Ali- Saudi German Health UAE
Mohamed Riyasudeen- Al Ain Ahlia Insurance Co (PSC)
Manoharan Mudaliar- Truebell Group of Companies
Zaheer Shaikh- Al Maryah Community Bank LLC
Cybersecurity Leader of the Year-Ned Baltagi, SANS Institute
Velmurugan Segamani-Emaar Properties
Ala Asali- Arab National Bank
Mohamed Gazzaz-Tonomus
Adel Alhosani-Dubai Customs
Waqas Haider-HBL Microfinance Bank
Eissa Naser Al Hammadi-Dept of Health
Hamed Obaid Sebait Naseib Areidat- Central Bank of the UAE
Aliasgar Bohari-Zulekha Hospital
Anas Eltahir- Dubai Government – Legal Affairs Department
Sagar Sethi-First Abu Dhabi Bank
Phil Westgarth- Network International
Gigi Mathew Thomas- Ittihad International Investment
Harsh Daftary- Emirates NBD
Apparel UAE-Mukesh Kumar
Jinson Pappachan-Emirates Policy Center
Ashish Khanna-Sharaf Group
Vishal Vijaykumar Bhawnani- Virgin Mobile – UAE
Anoop Kumar Paudval-Al Nisr Publishing
Prabhat Kumar Pathak- Gulf Marketing Group
Abbas Sabuwala- DMCC Authority
Rajesh Yadla-Al Hilal Bank
Nishant Menothparambil- Enova Facilities Management Services
Abhilash Radhadevi-OQT
Umesh Moolchandani- Bin Dasmal Group
Mustansir Aziz- Automech Group
Shijin Prasad- Cure Medical Centers, Al Nokhba Medical Centers & Cure Pharmacies
Sarith Bhavan- Mubadala Investment Company
Mohannad Hennawi- NAFFCO
Tony Sweeney- Deribit Sentillia
Munish Jain-Dubai Health Authority (DHA)
FSA Awards2023:
Best Managed Security Services Provider of the Year- Help AG
Best Endpoint Security Vendor of the Year-Sophos
Best Security Solutions Provider of the Year-Cloud Box Technologies
Best Security VAD of the Year-StarLink
Best Critical Infrastructure Security Vendor of the Year- OPSWAT
Best Cloud Application Security Vendor of the Year- Barracuda Networks
Best AI Security Vendor of the Year-Hikvision
Best Network Management Solutions for SMBs- Nuclias by D-Link
Best Intelligent NDR Vendor of the Year- LinkShadow
Best Cybersecurity Risk Management Vendor of the Year- Tenable
Best Privilege Access Management Vendor of the Year– Delinea
Best Data Protection Vendor of the Year- Veeam Software
Best Digitalisation & Cybersecurity Provider of the Year- Bahwan CyberTek
Best Anti-DDoS Vendor of the Year- A10 Networks
Best Data Analytics Vendor of the Year-SAS
Emerging Security Vendor of the Year-Raqmiyat
Best Network Security Vendor of the Year-Juniper Networks
Best Surveillance Systems Vendor of the Year-Genetec
Best Cybersecurity Solutions Partner of the Year-CNS Middle East
Outstanding Excellence in IT Training Programs of the Year- Network Binary
Best Security Systems Integrator of the Year-MMA Infosec
Best Cybersecurity System Vendor of the Year- SolarWinds
Best Cloud Security Vendor of the Year-Cloudflare
Best Innovative Smart Home Security Vendor of the Year-Ring
Best Network for Digital Video Surveillance Systems of the Year-Allied Telesis
The CISO 50 & FSA Awards Gala was a resounding success, bringing together some of the brightest minds in cybersecurity and providing a platform for sharing knowledge and celebrating excellence.