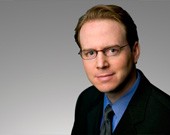 Citrix Systems has announced the appointment of David J. Henshall, chief financial officer and chief operating officer of the company as president, chief executive officer (CEO) and a member of the board, effective immediately.
Henshall replaces Kirill Tatarinov who has exited after just 18 months as part of a "mutual separation decision" with the board, the firm said.

"Henshall is a proven leader who knows our company inside and out, and the board has the utmost confidence in him," said Robert Calderoni, executive chairman of the Citrix board. "Moving forward, the board believes that accelerating our cloud transformation will position the company for even greater success in the years ahead, driving greater value for our shareholders. We now have the right team in place to execute on that vision."
Henshall said, "We have a talented team at Citrix, and I am honoured to lead Citrix through this new chapter. We have created an impressive platform of best-in-class products and services that customers and partners rely on every day to embrace the future of work. I can assure you that we will continue to deliver and innovate for our customers and partners as we move forward as a more powerful Citrix."
Mark M Coyle, senior vice president, Finance, has been appointed interim CFO, effective immediately. According to the company, it has retained a leading executive search firm to assist in a comprehensive search process to identify a permanent CFO with both internal and external candidates being considered.
According to the release, the company's board has also formed an Operations and Capital Committee that will work with its management team and advise the board on a comprehensive review of opportunities to drive margin expansion and return capital to shareholders. The Committee will be led by Citrix executive chairman, Robert Calderoni, joined by Citrix president and CEO, David Henshall, and Citrix directors, Jesse Cohn and Peter J. Sacripanti.
 The company has also reaffirmed guidance for the second quarter of fiscal year 2017 ended June 30, 2017. Citrix said the revenue for the quarter is expected to be in line with the firm's current guidance of $685 million to $695 million with strong demand from customers for subscription-based solutions.