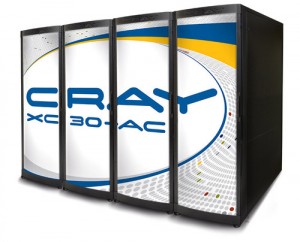 Supercomputer manufacturer Cray has expanded its portfolio of systems for the technical enterprise market. 
The company's newest machine, the Cray XC30-AC, starting at $500,000, was built for mid-sized organisations that need some supercomputing muscle for research and development, though don't require a system that takes up half a data centre.
"We're going for a technical enterprise customer with a constant demand for scientific computing," said Barry Bolding, Cray vice president of storage and data management. Cray says it has already sold a number of XC30-ACs, including one to a large consumer electronics company and another to a global financial services company.
Possessing a modest-sized supercomputer can be more cost-effective than using a cloud service, such as Amazon Web Services or Microsoft Azure, Bolding said. All the major cloud services are optimised for handling bursts of computational activity. A Cray system, in contrast, is designed to handle the high-sustained throughputs required for large scientific modeling and simulation jobs, Bolding said.
"If you are driving a workload that could keep a one-, two-, or three-cabinet system busy 24 hours a day, seven days a week, then it is more cost effective to purchase that system yourself," Bolding said.
Cray's primary customer base consists of universities and government labs that need systems with tens of thousands of computational cores to execute deep research projects. In recent years, however, Cray has also been reconfiguring its systems into smaller packages for organisations that don't need full-sized supercomputers but nonetheless have jobs that could benefit from a supercomputer's massively parallel processing capabilities.
Many industries today are undertaking research and development activities that could require as many as 10,000 cores to execute, Bolding said. Cray is marketing the XC30-AC to Fortune 1000 companies in the fields of manufacturing, life sciences, financial services and energy.
The company had tailored some machines in its previous line of supercomputers – the XE-6 line – for business users, and companies such as General Electric and Exxon purchased these models. The XE-6 line ran processors from Advanced Micro Devices, whereas the XC30-AC runs Intel chips, which makes it a better fit for those customers running only Intel servers, Bolding said.
The new computer is based on the company's new XC30 system released earlier this year. "Under the hood, it uses the exact same technologies as the XC30," Bolding said. Such technologies include the new Aries system interconnect and the Dragonfly network topology.
Cray redesigned the packaging, networking, cooling and power to cut costs of the system, however. Each XC30-AC cabinet only has less than half the number of cores as the XC30 – 128 cores as opposed to the XC30's 384 cores. This lower density of cores allows the cabinet to be cooled by a fan, rather than through the more expensive liquid cooling.
The XC30-AC also doesn't need optical cables, which are only used in the XC30 to connect cabinets that are very far apart. Power requirements have been stepped down as well, to 208 volts, as opposed to the 480 volts required by the XC30.
For the technical enterprise, Cray also offers the Cray CS300 cluster supercomputer. Both the XC30-AC and the CS300 are built for the same type of workload, though the CS300 offers more flexibility in terms of substituting different hardware and system software, whereas the XC30-AC offers a more tightly integrated package that reduces the amount of system administration needed, Bolding said.
The XC30-AC runs Intel Xeon processors and can range in size from one to eight cabinets, for a maximum of 1,024 sockets. Each cabinet consists of 16 vertical compute blades. The system can execute from 22 to 176 teraflops (trillion floating point operations per second). It runs on the Cray Linux operating system and comes with a number of HPC (high-performance computing) application development tools. It is designed to accommodate the computational needs of 100 to 1,000 users at one time. System cost ranges from $500,000 to $3 million.