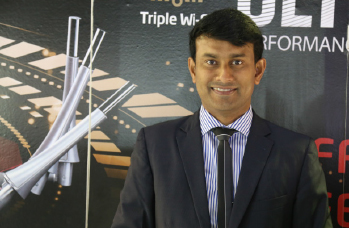 Being one of the oldest brands in networking in the Middle East and Africa region, D-Link has been a participant at GITEX Technology Week for over 16 years. This year, the company is showcasing its latest networking products at the event.
"One of the highlights of our presence this year is our new 5300Mbps router which can bring impressive wireless speeds to customers," says Sakkeer Hussain, Director, Sales and Marketing, Middle East and Africa, D-Link.
"We are also exhibiting our Smart Home products," he says. "We are also hosting live demonstrations of our new offerings. Our technical team is also present at our stand to explain to visitors how each of our products work and how they can benefit end-users."
The company is also exhibiting a number of products in the 3G and 4G segments, switching, and more.
Aside from showcasing their latest products, Hussain shares that the event is very important for the company as it enable them to meet and engage with their existing customers and partners, as well as gain prospective clients.
Hussain underlines that over the last few years a lot of competition in the networking space has surfaced which presents a challenge for them. However, he explains that the way they deal with this bottleneck is by quickly delivering the latest technologies to their customers at a reasonable price.
In addition, he mentions that since the company does business in the Middle East and Africa region, they have made sure that a dedicated team was assigned to each of the verticals that they cater to. "We have also set up numerous 'Experience Zones' at some of the major retailers in the region which customers can visit to get first-hand knowledge and experience of D-Link products before buying them," Hussain adds.
Moreover Hussain highlights that as D-Link has a vast array of products in our portfolio, they consider themselves as a true networking vendor which differentiates them from the competition in the market.