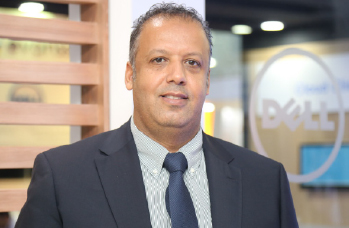 It has been quite the week for Dell, exhibiting at GITEX in Hall 6. Of course, the recent announcement of the company's merger with EMC has kept the stand buzzing, and as the annual Dell World Forum continues to pump out new announcements, Dell has a great deal to talk about.
The story of Dell is one that has been aligned with their customer. From humble beginnings, the company has grown exponentially, and has now positioned itself to be an end-to-end solutions provider for their customers. "It has truly been a phenomenal week here at GITEX," says Driss el Ougmani, General Manager Middle East, Africa and Turkey, "and it is a great time to be a part of Dell."
Yesterday, the company announced its latest offering, perhaps the most significant refresh to its OptiPlex commercial PC portfolio in five years, the Wyse 5050 AIO zero client for VMware. "This is huge for our customers in the GCC," says el Ougmani. "According to IDC, Dell was the number one provider of thin clients worldwide for 2014." The company is set to top that record, as this year, Dell has shipped more thin clients than any of their competitors. These new offerings are designed to increase employee productivity by helping them seamlessly connect to the business critical data and applications they need to get the job done.
"A lot of customers are used to seeing vendors talk in silos," says el Ougmani, "They simply don't have the offerings to speak otherwise." Dell has done the footwork to deserve its new hashtag, #onedell this year. To check out the plethora of new offerings from Dell, visit the stand in Hall 6.