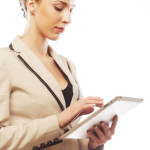 Daxium Middle East has released a mobile app throughout GCC today that aims to help event organizers profile visitors efficiently.
The app makes easy collecting and tabulating details of event attendees. It be installed on both smartphones and tablets.
Events play an integral role in driving business today. The app intends to support exhibiting companies, promotion agencies, organizers and professional event planners with the collection of visitor feedback and their contact details.
Increased use of tablets have made exhibitors mobile resulting in more interactivity. Visitors will have an option to electronically register themselves. This service aims to double the amount of visitor contacts collected at events, and eliminate errors and misinterpretations resulting from paper registrations. Visitor information obtained during the event can later be extracted onto an excel spreadsheet at the click of a button, saving time and increasing accuracy.
Detailing its functionality, Aymeric de Guerre, Area Manager of the company added, "Once the app is installed, it creates a digital registration form customized to the event within 24 hours. The information entered offline into the digital form at the exhibition stand can be extracted in one click to Excel". In the future, Daxium intends to train the staff of client companies to independently create similar forms at no additional charge.
Daxium is currently developing an Arabic version, which will be available in the beginning of October.
The app will be showcased during the Gitex Technology Week, from October 12th to 16th 2014, at Dubai World Trade Centre.