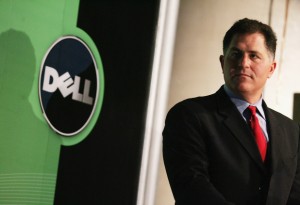 Dell is close to finalising a deal to take the company private, with all the speculation shining a renewed spotlight on the fledgling PC maker, according to a number of analysts.
"The buyout speculation is helping Dell in that investors and customers are giving it a second look," said Patrick Moorhead, Analyst, Moor Insights & Strategy. "To public investors, it's the classic wanting what they can't have. And to customers, it's a sign of confidence. It's important to get a deal wrapped up in the next few weeks, though, because that positive could turn negative if it drags out too long."
Earlier Monday, the Wall Street Journal reported that Round Dell, the world's number-three PC maker, is close to finalising a $23 billion buyout of the company.
Another report from the Bloomberg news service noted that the deal, which would include four banks, would call for Michael Dell, the company's founder and CEO, to contribute equity financing of $500 million to $1 billion. The buyout is reportedly being led by Silver Lake Management LLC, though Microsoft is rumored to also be providing funding.
Dell has so far declined to comment.
Robert Enderle, Analyst, The Enderle Group, said he expects the deal to be announced this week.
"The goal is to get Dell out from under a massive amount of reporting cost and tactical financial performance oversight so they can do big deals, and are free to restructure the company if they need to," Enderle said. "If Dell pulls this off, expect other firms in this segment to take a similar course so they can restructure more effectively for the changed technology market."
For the last few years, Dell, which has been public for about 25 years, has been dealing with the struggling PC market, which has been continually hammered by the sluggish economy and the burgeoning tablet market.
In the fall of 2011, Dell slipped from its number-two spot in the PC market, and was surpassed by Lenovo. Dell still sits in third place, with 10.2 percent of worldwide market share. It is barely ahead of number four, Acer Group, which has 9.5 percent of market share.
Going private would free Dell from Wall Street expectations and would give its CEO the flexibility to be more competitive in pricing, make key mergers and acquisitions and take other steps that could make shareholders unhappy but could benefit the bottom line.
"A buyout would help Dell in the long run," said Moorhead. "Buyouts and privatisation enable companies to make radical changes more quickly to better position themselves in the future. Instead of making decisions to better the quarter, they make decisions to improve the next three to five years."