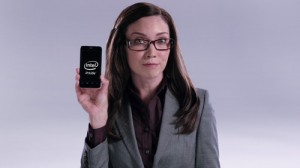 Intel is expanding into low-cost laptops and tablets starting at US$200 with new low-power Atom chips based on an architecture called Silvermont, which the company is expected to talk about next week, according to a source familiar with Intel's plans.
The company expects the release later this year of tablets and laptops with detachable or folding screens priced between $200 and $399 with Atom chips code-named Bay Trail, which is based on Silvermont. Silvermont is the first Atom architecture overhaul since 2008, when the first Atom chip was released and subsequently panned for its performance.
Intel has promised better performance and battery life in tablets, smartphones and laptops with Silvermont-based Atom chips. Intel will spill more details about Silvermont at an event to be held on Monday at the company's Santa Clara campus. Speakers at the event include Dadi Perlmutter, executive vice president and general manager of the Intel Architecture Group.
Intel has said that inexpensive Android or Windows tablets and laptops will be available this holiday shopping season with a quad-core Bay Trail processor. Silvermont chips also include Merrifield, which will be in smartphones next year, and Avoton, which will be in low-power dense servers in the second half.
Intel previously painted Bay Trail as a processor for tablets, but earlier this month said it will expand the chip to sub-US$599 convertibles, laptops and desktops. The new generation of Silvermont chips will replace previous Atom chips used in netbooks, which were criticised for their underwhelming performance. Bay Trail will also unite a range of older Atom chip lines like Cedar Trail for netbooks, Clover Trail for tablets, and to some extent, Medfield processors like Clover Trail+ used in tablets.
PC shipments are falling and Intel has so far failed to reverse the fortunes of the PC market via its Ultrabook strategy — Ultrabooks are faster but remain expensive. However, Intel hopes the low-cost laptops and hybrids will Bay Trail chips will attract a new set of buyers and reinvigorate the PC market in the process.
Intel also hopes $200 tablets with Bay Trail will match or even top the price, performance and battery life of similar devices based on ARM processors, which are also used in most tablets and smartphones today. Today's top tablets such as Apple's iPad, Samsung's Galaxy Tab, Google's Nexus and Amazon's Kindle Fire HD use chips with ARM processor designs.
It is likely that the cheaper laptop and tablet models will come with Android. Intel is working with Google on the development of driver packages for the OS, and some of Intel's existing Atom chips are already compatible with Android 4.2.
Intel also hopes to use its manufacturing advantage — which is considered the most advanced in the industry — to build smaller and faster Atom chips. The upcoming Atom chips based on Silvermont will be made using the 22-nanometre process, in which transistors will be stacked on top of each other. The 3D design, sometimes called FinFET, allows packing more transistors in a smaller space, which results in faster chips that are better at maximizing power efficiency.
The nanometre process refers to the underlying physics used in factories to create substrates on which chip features are etched. Current Intel Atom processors are made using the 32-nm process. Intel will start making 14-nm process later this year, and ultimately will release mobile chips code-named Airmont based with the manufacturing technology.
The first Silvermont chips will likely be used in servers. Starting in the second half, HP's Moonshot server will have Avoton chips in its low-power dense servers.
A company spokesperson declined to comment about further details on Silvermont or related chips.