Dubai Electricity and Water Authority (DEWA) has announced it will double its electric vehicles charging stations to 200, in a bid to encourage people to use sustainable modes of transport across Dubai.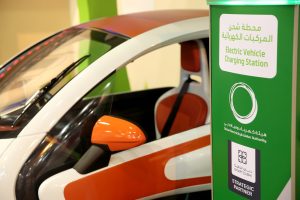 This announcement, which triggers phase two of The Green Charger Initiative, aligns with DEWA's strategy to meet the vision of HH Sheikh Mohammed bin Rashid Al Maktoum, Vice President and Prime Minister of the UAE and Ruler of Dubai, to make Dubai the smartest and happiest city in the world.
"Through this initiative, DEWA aims to encourage people to use sustainable transportation of hybrid and electric vehicles to help reduce carbon emissions in the transport sector, which is the second highest contributor of greenhouse gas emissions in Dubai," said HE Saeed Mohammed Al Tayer, MD and CEO of DEWA.
"The Green Charger initiative contributes to the objectives of the Dubai Clean Energy Strategy 2050, to transform Dubai into an international hub for clean energy and a green economy, and to enhance Dubai's position as the city with the lowest carbon footprint worldwide. It also supports the Dubai Carbon Abatement Strategy to reduce carbon emissions by 16 percent by 2021."
DEWA is setting up different types of charging stations across the emirate. Fast-charging stations will be installed at petrol stations and take between 20 and 40 minutes. Medium-charging stations will be installed at shopping malls, parks, and Dubai Government customer service centres and will take 2-4 hours.
"For example, a Renault electric car can be charged for a full hour for a cost of only AED 7, which would allow you to drive it for 130 km and reach the same speeds as conventional cars," added Al Tayer. "This figure constitutes significant savings for electric car owners, compared with those that use fuel."
DEWA launched the Green Charger initiative in April 2014 to install and manage the required infrastructure to charge electric vehicles.